111 Years of Deutsche Grammophon - CD 40
111 Years of Deutsche Grammophon - CD 40
Lamenti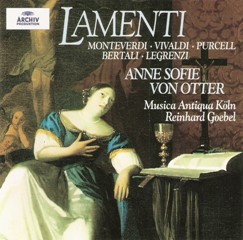 Claudio Monteverdi (1567 - 1643)
1 Con che soavità [4:42]

Antonio Bertali (1605 - 1690)
2 Lamento della Regina d'Inghilterra [15:24]

Giovanni Legrenzi (1626 - 1690)
Il Ballo del Gran Duca op.16
3 Corrente Nona [3:19]

Antonio Vivaldi (1678 - 1741)
4 Cantata "Cessate, omai cessate" RV 684 [10:52]

Claudio Monteverdi (1567 - 1643)
5 Lamento d'Arianna [11:07]

Henry Purcell (1659 - 1695)
6 Incassum, Lesbia, rogas Z.383 [7:27]

Alessandro Piccinini (1566 - 1638)
7 Ciaccona [1:52]

Henry Purcell (1659 - 1695)
8 "O Solitude", Z.406 [4:58]

Anne Sofie von Otter – mezzo-soprano
Franz-Josef Selig – bass
Jakob Lindberg - lute
Markus Möllenbeck – cello
Christian Rieger – organ

Musica Antiqua Köln 
Reinhard Goebel – conductor

A lament or lamentation is a song, poem, or piece of music expressing grief, regret, or mourning. In many oral traditions, both early and modern, the lament has been a genre usually performed by women. A heroine's lament is a conventional fixture of baroque opera seria, accompanied usually by strings alone, in descending tetrachords. Because of their plangent cantabile melodic lines, evocatively free, non-strophic construction and adagio pace, operatic laments have remained vividly memorable soprano or mezzo-soprano arias even when separated from the emotional pathos of their operatic contexts.
Anne Sofie von Otter (born 9 May 1955) is an opera singer and concert recitalist. She is particularly known for her trouser roles.
Von Otter was born in Stockholm, Sweden. Her father was the diplomat Göran von Otter and she grew up in Bonn, London and Stockholm. After studying in Stockholm and Guildhall School of Music and Drama in London, she was engaged by the Basel Opera, where she made her operatic début in 1983 as Alcina in Haydn's Orlando paladino. She made her Royal Opera House, Covent Garden début in 1985 and her Metropolitan Opera début in 1988 as Cherubino. In 1987, she made her La Scala debut. She has had notable success in roles of Mozart, Handel, and Monteverdi. In recitals, she excels in the music of Mahler, Brahms, Grieg, Wolf and Sibelius. In 2001 she released an album with Elvis Costello, for which she won an Edison Award. Among the conductors she has worked with repeatedly are William Christie, Marc Minkowski, Claudio Abbado, John Eliot Gardiner, and Myung-Whun Chung. Most of her recitals and many of her recordings have been collaborations with Swedish pianist Bengt Forsberg.