111 Years of Deutsche Grammophon - CD 30
111 Years of Deutsche Grammophon - CD 30
Dvorák: Symphonies Nos.8 & 9 "From the New World"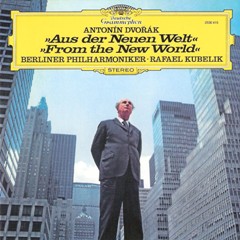 Symphony No.8 in G, Op.88
1 1. Allegro con brio [9:58]
2 2. Adagio [10:19]
3 3. Allegretto grazioso - Molto vivace [6:39]
4 4. Allegro ma non troppo [8:48]

Symphony No.9 in E minor, Op.95 "From the New World"
5 1. Adagio - Allegro molto [9:32]
6 2. Largo [13:04]
7 3. Scherzo (Molto vivace) [8:08]
8 4. Allegro con fuoco [11:51]

Berliner Philharmoniker
Rafael Kubelik – conductor

The Symphony No. 8 in G major, Op. 88, B. 163, was composed and orchestrated by Antonín Dvořák within the two-and-a-half-month period from August 26 to November 8 1889 in Vysoká u Příbrami, Bohemia. The score was dedicated: "To the Bohemian Academy of Emperor Franz Joseph for the Encouragement of Arts and Literature, in thanks for my election." Dvořák conducted the premiere in Prague on February 2, 1890.
The Eighth Symphony is performed fairly frequently, but not nearly as often as the more famous Ninth Symphony ("From the New World"). In this regard the Eighth enjoys a similar status to the Seventh Symphony, despite the two works' marked differences. While the Seventh is a stormy romantic work, the Eighth is cheery and draws its inspiration more from the Bohemian folk music that Dvořák loved.
A typical performance of the Eighth lasts about 36 minutes, making it one of Dvořák's shorter symphonies.
The Symphony No. 9 in E Minor "From the New World", Op. 95, B. 178 (Czech: Symfonie č. 9 e moll "Z nového světa"), popularly known as the New World Symphony, was composed by Antonín Dvořák in 1893 during his visit to the United States from 1892 to 1895. It is by far his most popular symphony, and one of the most popular in the modern repertoire. In older literature and recordings this symphony is often indicated as Symphony No. 5.
The symphony was commissioned by the New York Philharmonic, and premiered on December 16, 1893, at Carnegie Hall conducted by Anton Seidl. At the ninth symphony's premiere at Carnegie Hall (December 16, 1893) the reception was one of perpetual cheering. The end of every movement was met with thunderous clapping and Dvořák felt obliged to stand up and bow. In a letter to his publisher Simrock he stated how there was "no getting out of it, and I had to show myself willy-nilly".