111 Years of Deutsche Grammophon - CD 28
111 Years of Deutsche Grammophon - CD 28
Beethoven: Symphonies Nos.5 & 7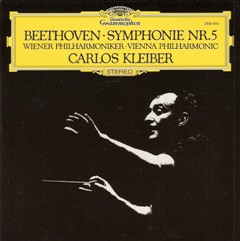 Symphony No.5 in C minor, Op.67
1 1. Allegro con brio [7:22]
2 2. Andante con moto [10:00]
3 3. Allegro [5:09]
4 4. Allegro [10:51]

Symphony No.7 in A, Op.92
5 1. Poco sostenuto – Vivace [13:36]
6 2. Allegretto [8:09]
7 3. Presto - Assai meno presto [8:15]
8 4. Allegro con brio [8:36]

Wiener Philharmoniker
Carlos Kleiber – conductor

The Symphony No. 5 in C minor, Op. 67, was written by Ludwig van Beethoven in 1804–08. This symphony is one of the most popular and best-known compositions in all of classical music, and one of the most often played symphonies.[1] It comprises four movements: an opening sonata, an andante, and a fast scherzo which leads attacca to the finale. First performed in Vienna's Theater an der Wien in 1808, the work achieved its prodigious reputation soon afterwards. E. T. A. Hoffmann described the symphony as "one of the most important works of the time". The symphony, and the four-note opening motif in particular, are well known worldwide, with the motif appearing frequently in popular culture, from disco to rock and roll, to appearances in film and television.
Ludwig van Beethoven's Symphony No. 7 in A major, Op. 92, in 1811, was the seventh of his nine symphonies. He worked on it while staying in the Bohemian spa town of Teplice in the hope of improving his health. It was completed in 1812, and was dedicated to Count Moritz von Fries.
At its debut, Beethoven was noted as remarking that it was one of his best works. The second movement Allegretto was the most popular movement and had to be encored. The instant popularity of the Allegretto resulted in its frequent performance separate from the complete symphony.
The work was premiered in Vienna on 8 December 1813 at a charity concert for soldiers wounded in the Battle of Hanau, with Beethoven himself conducting and double featured with the patriotic Wellington's Victory. The orchestra was led by Beethoven's friend, Ignaz Schuppanzigh, and included some of the finest musicians of the day: violinist Louis Spohr, Johann Nepomuk Hummel, Giacomo Meyerbeer, Antonio Salieri, Anton Romberg, and the Italian double bass virtuoso, Domenico Dragonetti, whom Beethoven himself described as playing "with great fire and expressive power". It is also said that the Italian guitar virtuoso Mauro Giuliani played cello at the premiere. The piece was very well received, and the second movement, the allegretto, had to be encored immediately. Spohr made particular mention of Beethoven's antics on the rostrum ("as a sforzando occurred, he tore his arms with a great vehemence asunder ... at the entrance of a forte he jumped in the air"), and the concert was repeated due to its immense success.
Last Updated (Sunday, 03 June 2012 21:31)