111 Years of Deutsche Grammophon - CD 27
111 Years of Deutsche Grammophon - CD 27
Beethoven: Piano Concertos Nos.4 & 5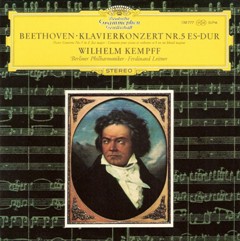 Piano Concerto No.4 in G, Op.58
Cadenzas: Wilhelm Kempff
1 1. Allegro moderato - Cadenza: Wilhelm Kempff [17:16]
2 2. Andante con moto [4:49]
3 3. Rondo. Vivace - Cadenza: Wilhelm Kempff [10:29]

Piano Concerto No.5 in E flat major Op.73 -"Emperor"
4 1. Allegro [20:15]
5 2. Adagio un poco mosso [7:35]
6 3. Rondo (Allegro) [10:36]

Wilhelm Kempff - piano 
Berliner Philharmoniker
Ferdinand Leitner – conductor

Ludwig van Beethoven's Piano Concerto No. 4 in G major, Op. 58, was composed in 1805–1806, although no autograph copy survives. It was premiered in March 1807 at a private concert of the home of Prince Franz Joseph von Lobkowitz. The Coriolan Overture and the Fourth Symphony were premiered in that same concert. However, the public premiere was not until 22 December 1808 in Vienna at the Theater an der Wien. Beethoven again took the stage as soloist. This was part of a marathon concert which saw Beethoven's last appearance as a soloist with orchestra, as well as the premieres of the Choral Fantasy and the Fifth and Sixth symphonies. Beethoven dedicated the concerto to his friend, student, and patron, the Archduke Rudolph.
A review in the May 1809 edition of the Allgemeine musikalische Zeitung states that "[this concerto] is the most admirable, singular, artistic and complex Beethoven concerto ever". However, after its first performance, the piece was neglected until 1836, when it was revived by Felix Mendelssohn. Today, the work is widely performed and recorded, and is considered to be one of the central works of the piano concerto literature.
The Piano Concerto No. 5 in E-flat major, Op. 73, by Ludwig van Beethoven, popularly known as the Emperor Concerto, was his last piano concerto. It was written between 1809 and 1811 in Vienna, and was dedicated to Archduke Rudolf, Beethoven's patron and pupil. The first performance took place on 28 November 1811 at the Gewandhaus in Leipzig, the soloist being Friedrich Schneider. In 1812, Carl Czerny, another student of Beethoven's, gave the Vienna debut of this work.
The epithet of Emperor for this concerto, was not Beethoven's own, but was coined by Johann Baptist Cramer, the English publisher of the concerto. Its duration is approximately forty minutes.