111 Years of Deutsche Grammophon - CD 25
111 Years of Deutsche Grammophon - CD 25
Orff: Carmina Burana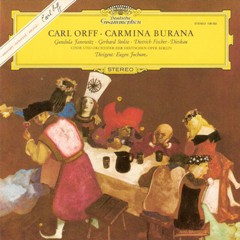 Fortuna Imperatrix Mundi
1 "O Fortuna" [2:36]
2 "Fortune plango vulnera" [2:37]

1. Primo vere
3 "Veris leta facies" [3:28]
4 "Omnia Sol temperat" [2:03]
5 "Ecce gratum" [2:40]

Uf dem Anger
6 Dance [1:43]
7 "Floret silva nobilis" [3:02]
8 "Chramer, gip die varwe mir" [2:59]
9 "Swaz hie gat umbe" - "Chume, chum geselle min" [3:59]
10 "Were diu werlt alle min" [0:53]

2. In Taberna
11 "Estuans interius" [2:13]
12 "Olim lacus colueram" [3:25]
13 "Ego sum abbas" [1:31]

3. Cour d'amours
14 "In taberna quando sumus" [3:06]
15 "Amor volat undique" [3:02]
16 "Dies, nox et omnia" [1:58]
17 "Stetit puella" [1:50]
18 "Circa mea pectora" [2:11]
19 "Si puer cum puellula" [0:58]
20 "Veni, veni, venias" [1:00]
21 "In trutina" [1:54]
22 "Tempus est iocundum" [2:09]
23 "Dulcissime" [0:34]

Blanziflor et Helena
24 "Ave formosissima" [1:39]

Fortuna Imperatrix Mundi
25 "O Fortuna" [2:33]

Gundula Janowitz - soprano
Dietrich Fischer-Dieskau – baritone
Chor der Deutschen Oper Berlin
Gerhard Hellwig – chorus master
Schöneberger Sängerknaben
Walter Hagen-Groll – chorus master		
Orchester der Deutschen Oper Berlin
Eugen Jochum – conductor

Carmina Burana is a scenic cantata composed by Carl Orff in 1935 and 1936. It is based on 24 of the poems found in the medieval collection Carmina Burana. Its full Latin title is Carmina Burana: Cantiones profanæ cantoribus et choris cantandæ comitantibus instrumentis atque imaginibus magicis ("Songs of Beuern: Secular songs for singers and choruses to be sung together with instruments and magic images.") Carmina Burana is part of Trionfi, the musical triptych that also includes the cantata Catulli Carmina and Trionfo di Afrodite. The best-known movement is "Fortuna Imperatrix Mundi" ("O Fortuna") that opens and closes the piece.
In 1934, Orff encountered the text in the 1847 edition of the Carmina Burana by Johann Andreas Schmeller. Michel Hofmann, then a young law student and Latin and Greek enthusiast, assisted Orff in the selection and organization of 24 of these poems into a libretto, mostly in Latin verse, with a small amount of Middle High German and Old Provençal. The selection covers a wide range of topics, as familiar in the 13th century as they are in the 21st century: the fickleness of fortune and wealth, the ephemeral nature of life, the joy of the return of Spring, and the pleasures and perils of drinking, gluttony, gambling and lust.
Carmina Burana was first staged in Frankfurt by the Frankfurt Opera on June 8, 1937 (conductor: Bertil Wetzelsberger, choir Cäcilienchor, staging by Oskar Wälterlin and sets and costumes by Ludwig Sievert).