111 Years of Deutsche Grammophon - CD 5
111 Years of Deutsche Grammophon - CD 5
Debussy: Préludes Book 1; Images Books 1 & 2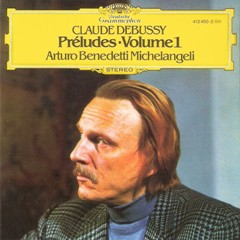 Préludes - Book 1
1 1. Danseuses de Delphes [3:18]
2 2. Voiles [4:30]
3 3. Le vent dans la plaine [2:13]
4 4. Les sons et les parfums tournent dans l'air du soir [3:39]
5 5. Les collines d'Anacapri [3:19]
6 6. Des pas sur la neige [4:58]
7 7. Ce qu'a vu le vent d'ouest [3:42]
8 8. La fille aux cheveux de lin [2:55]
9 9. La sérénade interrompue [2:43]
10 10. La cathédrale engloutie [6:52]
11 11. La danse de Puck [3:12]
12 12. Minstrels [2:29]

Images - Book 1
13 1. Reflets dans l'eau [4:54]
14 2. Hommage à Rameau [6:35]
15 3. Mouvement [3:37]

Images - Book 2
16 1. Cloches à travers les feuilles [4:22]
17 2. Et la lune descend sur le temple qui fût [5:14]
18 3. Poissons d'or [4:02]

Arturo Benedetti Michelangeli – piano

Claude Debussy's Préludes are two sets of pieces for solo piano. They are divided into two separate livres, or books, of twelve preludes each. Unlike previous collections of preludes, like those of JS Bach and Chopin, Debussy's do not follow a strict pattern of key signatures.
Each book was written in a matter of months, at an unusually fast pace for Debussy. Book one was written between December 1909 and February 1910, and book two between the last months of 1912 and early April 1913.
Images pour orchestre is an orchestral composition in three sections by Claude Debussy. Debussy wrote the music between 1905 and 1912. Debussy had originally intended this set of Images as a two-piano sequel to the first set of Images (solo piano), in a letter to his publisher Durand as of September 1905. However, by March 1906, in another letter to Durand, Debussy had begun to think of casting the work for orchestra rather than two pianos.