Mikolaj Zielenski - Offertoria et Communiones Totius Anni (2008)
Mikolaj Zielenski - Offertoria et Communiones Totius Anni (2008)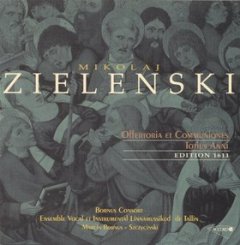 1 Anima Nostra 
2 Ave Maria 	
3 Veideo Caelos Apertos 	
4 Desiderium Animae Eius
5 Deus Firmavit 	
6 Ego Sum Pastor Bonus 	
7 Elegrunt Apostoli 	
8 Inveni David 	
9 Responsum Acepit 		play	
10 Iustus Ut Palma Florebit 		play	
11 Laetentur Caeli 	
12 Confundantur Superbi 	
13 Posuisti Domine 	
14 Reges Tharsis 	
15 Gustate Et Videte 	
16 Terra Tremuit 	
17 Principes Persecuti Sunt 	
18 Tui Sunt Caeli 	

Emma Kirkby - Soprano	
Andrzej Bialko – Organ
Capella Cracoviensis
Stanislaw Galonski – conductor

Mikołaj Zieleński (Zelenscius, birth and death dates unknown) was a Polish composer, organist and Kapellmeister to the primate Baranowski, Archbishop of Gniezno.
Zieleński's only known surviving works are two 1611 liturgical cycles of polychoral works, the Offertoria/Communes totius anni. These were dedicated to the Archbishop of Gniezno, Wojciech Baranowski. The whole comprises eight part-books and a ninth book, the Partitura pro organo, which constitutes the organ accompaniment. This publication contains in all 131 pieces written for various vocal and also vocal and instrumental ensembles, all with organ accompaniment. The Venetian publication does not only comprise the offertories and communions; we find there also over a dozen other pieces, such as hymns, antiphons, a magnificat, and even three instrumental fantasias. In his compositions Zieleński relies on his own creative invention and does not, in general, make use of the cantus firmi. The few pieces which a pre-existent melody may be traced out are based not on a plainsong melody but on the melodies of Polish songs. The sets consist of large-scale double- and triple-choir antiphons, as well as some monodic works typical of the Seconda pratica style of early Monteverdi. Zieleński's music is the first known Polish music set in the style of the Baroque.
Mikołaj Zieleński (ok. 1550 w Warce – ok. 1616), kompozytor, który tworzył na przełomie XVI i XVII wieku. O jego życiu niewiele wiadomo; jego imię pojawia się głównie z wydanych w Wenecji w roku 1611 zbiorów Offertoria totius anni i Communiones totius anni, a o jego życiu wiemy tyle tylko, ile sam zaznaczył we wstępie do zbioru. Wiadomo że był kompozytorem, organistą i kapelmistrzem na dworze prymasa Polski Wojciecha Baranowskiego w Łowiczu. Szymon Starowolski, XVII-wieczny historyk relacjonuje (w Scriptorum polonicorum hekatonas), że Zieleński przez pewien czas studiował w Rzymie – co jest dość prawdopodobne ze względu na wpływy włoskie twórczości kompozytora.
Notatka Starowolskiego pochodząca z 1625 roku wymienia wprawdzie Zieleńskiego jako jednego z polskich muzyków studiujących w Rzymie – nie mówi niestety nic o czasie, w którym miał w Rzymie przebywać ani jak się tam dostał. Wydanie jego utworów w Wenecji (Jacobus Vincentius 1611) zostało umożliwione dzięki wsparciu prymasa, uwarunkowane zostało najprawdopodobniej chęcią zabłyśnięcia Baranowskiego – znanego we Włoszech dostojnika kościoła polskiego – jako mecenasa sztuki. Kiedy jednak Zieleński się urodził, gdzie i kiedy umarł, albo co robił po śmierci Baranowskiego w roku 1615 – i po rozwiązaniu jego nadwornej kapeli – nie wiadomo. Podobnie niemożliwym jest utworzenie chronologii jego dzieła. Tak samo nie sposób odpowiedzieć, czy chodzi tutaj tylko o jakiś wyjątek z jego twórczości, specjalnie skomponowane kompozycje czy też jakieś opus finitum.
download: uploaded yandex 4shared mediafire solidfiles mega zalivalka filecloudio anonfiles oboom
Last Updated (Wednesday, 09 July 2014 20:47)