Stanislav Bunin – Chopin 24 Etudes
Stanislav Bunin – Chopin 24 Etudes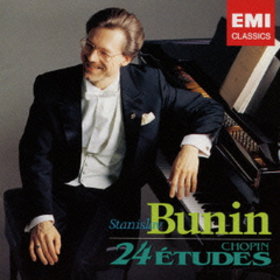 1. 	12 ETUDES. OP.10 NO.1:C-DUR:ALLEGRO
2. 	12 ETUDES. OP.10 NO.2:A-MOLL:ALLEGRO
3. 	12 ETUDES. OP.10 NO.3:E-DUR:LENTO. MA NON TROPPO
4. 	12 ETUDES. OP.10 NO.4:CIS-MOLL:PRESTO
5. 	12 ETUDES. OP.10 NO.5:GES-DUR:VIVACE
6. 	12 ETUDES. OP.10 NO.6:ES-MOLL:ANDANTE
7. 	12 ETUDES. OP.10 NO.7:C-DUR:VIVACE		play
8. 	12 ETUDES. OP.10 NO.8:F-DUR:ALLEGRO
9. 	12 ETUDES. OP.10 NO.9:F-MOLL:ALLEGRO MOLTO AGITATO
10. 	12 ETUDES. OP.10 NO.10:AS-DUR:VIVACE ASSAI
11. 	12 ETUDES. OP.10 NO.11:ES-DUR:ALLEGRETTO
12. 	12 ETUDES. OP.10 NO.12:C-MOLL:ALLEGRO CON FUOCO
13. 	12 ETUDES. OP.25 NO.1:AS-DUR:ALLEGRO SOSTENUTO
14. 	12 ETUDES. OP.25 NO.2:F-MOLL:PRESTO
15. 	12 ETUDES. OP.25 NO.3:F-DUR:ALLEGRO		play
16. 	12 ETUDES. OP.25 NO.4:A-MOLL:AGITATO
17. 	12 ETUDES. OP.25 NO.5:E-MOLL:VIVACE
18. 	12 ETUDES. OP.25 NO.6:GIS-MOLL:ALLEGRO
19. 	12 ETUDES. OP.25 NO.7:CIS-MOLL:LENTO
20. 	12 ETUDES. OP.25 NO.8:DES-DUR:VIVACE
21. 	12 ETUDES. OP.25 NO.9:GES-DUR:ALLEGRO ASSAI
22. 	12 ETUDES. OP.25 NO.10:H-MOLL:ALLEGRO CON FUOCO
23. 	12 ETUDES. OP.25 NO.11:A-MOLL:LENTO-ALLEGRO CON BRIO
24. 	12 ETUDES. OP.25 NO.12:C-MOLL:ALLEGRO MOLTO CON FUOCO

Stanislav Bunin – piano

A mixed bag. A lyrical (and in some moments quite good and interesting, in particular 10.3, 10.5, 25.1, 25.2, 25.3) performance, Bunin plays slow and expressive with refinement (even if with some isolated heaviness here and there) but he's a lacking of agility and power in the faster pieces. --- rateyourmusic.com
Chopin's Études are the foundation of a new system of technical piano playing that was radical and revolutionary the first time they appeared. They are some of the most challenging and evocative pieces of all the works in concert piano repertoire. Because of this, the music remains popular and often performed in both concert and private stages.
Etudes Op.10. The first set of Études was published in 1833 (although some had been written as early as 1829). Chopin was twenty-three years old and already famous as a composer and pianist in the salons of Paris, where he made the acquaintance of Franz Liszt. Subsequently, Chopin dedicated the entire opus to him - "à son ami Franz Liszt".
Etudes Op.25. Chopin's second set of Études was published in 1837, and dedicated to Franz Liszt's mistress, Marie d'Agoult, the reasons for which are a matter of speculation.
Last Updated (Sunday, 05 February 2012 20:30)