Palestrina - Missa Viri Galilaei (Herreweghe) [2002]
Palestrina - Missa Viri Galilaei (Herreweghe) [2002]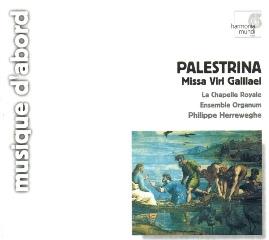 01. Ensemble Organum, Introitus - Viri Galilaei
02. La Chapelle Royale, Missa Viri Galilaei - Kyrie
03. La Chapelle Royale, Missa Viri Galilaei - Gloria
04. Ensemble Organum, Alleluja - Ascendit Deus in jubilatione, Dominus in Sina in sancto
05. La Chapelle Royale, Missa Viri Galilaei - Credo
06. Ensemble Organum, Offertorium - Ascendit Deus in jubilatione
07. Ensemble Organum, Praefatio - Vere dignum et justum est
08. La Chapelle Royale, Missa Viri Galilaei - Sanctus
09. La Chapelle Royale, Missa Viri Galilaei - Benedictus
10. La Chapelle Royale, Missa Viri Galilaei - Agnus Dei I
11. La Chapelle Royale, Missa Viri Galilaei - Agnus Dei II
12. Ensemble Organum, Communio - Psallite Domino
----
13. La Chapelle Royale, Viri Galilaei - motet
14. Magnificat primi toni

Ensemble Organum:
Tenors: Patrick Aubailly, Michel Gauvain, Frédéric Richard
Baritones: Malcolm Bothwell, Marcel Pérès
Basses: Christian Barrier, Antoine Sicot.

Ensemble Vocal Europeén de la Chapelle Royale:
Sopranos: Delphine Collot, Monika Frimmer, Elisabeth Rave, Dominique Verkinderen
Altos: Paul Gerhardt Adam, Pascal Bertin, Betty Van Den Berghe, Martin Van Der Zeijs.
Tenors: Dantes Diwiak, Andreas Schulist, Harry Van Berne, Nicholas Hadleigh Wilson
Basses: Kees Jan De Koning, Peter Kooy, Adrian Peacock.

Philippe Herreweghe, director.

This gorgeous Mass is based on Palestrina's Ascension Day motet Viri Galilei (included on the disc). The Mass uses standard "parody" technique: passages and motifs from the model (notably the swirling scales in the two soprano parts) are extended and repeated in the Mass; the opening measures of the motet begin each movement, scored differently in each instance. Philippe Herreweghe doesn't reconstruct an entire Ascension Day service, but he does have the chant specialists of Ensemble Organum provide the major chant items proper to the feast. (They sing with more concern for sounding "beautiful" than they have before or since.) The disc closes with a glorious Magnificat, verses alternating between plainchant (done by Ensemble Organum in parallel fifths) and soaring polyphony. ---Matthew Westphal, amazon.com
This is a really wonderful disc of one of Palestrina's great mass settings plus the motet on which he based it, and a Magnificat. I have loved this recording ever since I first heard it on Radio 3 in the early 1990s and I am delighted that it's available as a budget reissue.
La Chapelle Royale under Phillippe Herreweghe sing superbly. They pitch somewhat lower than, say, the Tallis Scholars and record in a very resonant acoustic. Although they therefore aren't quite as pure and precise as the Tallis Scholars, they have a very rich, warm sound which is wholly beguiling, and their blend, fluency and continuity of line do this beautiful music proud.
The mass is performed with plainchant Propers between Palestrina's polyphonic settings. The plainchant is sung by Ensemble Organum, who are simply fantastic. They have a restrained but muscular sound (very striking as they open the disc with the word "Viri") which goes brilliantly with the polyphony and works real magic in the Magnificat primi toni. This is, as was usual, an "alternatim" setting in which alternate verses are sung to plainchant and polyphony, and the constant interchange between the two beautiful and contrasting sounds makes it something really special.
At this price the disc is a colossal bargain for one of the finest Palestrina recordings I know. Recommended in the highest terms. --- sidsclassicalreviews.blogspot.com
download (mp3 @320 kbs):
uploaded yandex 4shared mega mediafire rockfile zalivalka cloudmailru oboom uplea
Last Updated (Saturday, 26 September 2015 16:16)