Albert Lortzing - Zar und Zimmermann (2002)
Albert Lortzing - Zar und Zimmermann (2002)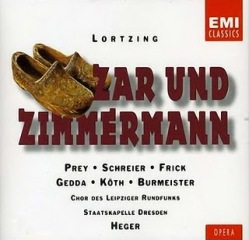 CD1
2. Greifet an und ruhrt die Hande (6:24)
3. Dialog (2:36)
4. Die Eifersucht ist eine Plage (5:04)
5. Dialog (0:45)
6. Verraten! Von euch verraten! (6:33)
7. Dialog (0:23)
8. O sancta Justizia Ich muchte rasen (6:34)		play
9. Dialog (1:09)
10. Lasst ruhen die Arbeit, das Zeichen ertunt (5:23)
11. Dialog (3:33)
12. Darf ich wohl den Worten trauen (7:43)
13. Dialog (0:48)
14. Das Fest beginnt, seid ihr bereit und fertig? (10:57

CD2
1. Hoch lebe die Freude (3:05)
2. Dialog (0:53)
3. Lebe wohl, mein flandrisch Madchen (4:38)
4. Dialog (0:38)
5. Zum Werk das wir beginnen (8:38)
6. Dialog (0:50)
7. Lieblich rцten sich die Wangen (3:29)
8. Dialog (0:39)
9. Schon seit geraumer Zeit bemerk ich hier Gesichter (9:12)
10. Den hohen Herrscher wьrdig zu empfangen (10:04)
11. Dialog (1:15)
12. Sonst spielt ich ich mit Szepter mit Krone und Stern (5:55)	play
13. Dialog (0:35)
14. Darf eine niedre Magd es wagen (5:20)
15. Dialog (1:08)
16. Schmucket mit Kranzen (2:28)
17. Ballett (3:57)
18. Erhabner Held (2:25)
19. Dialog (0:31)
20. So scheid ich denn von euch (1:57)

Zar Peter I - Hermann Prey
Peter Iwanow - Peter Schreier
Van Bett - Gottlob Frick
Marie - Ericka Koth
Witwe Browe - Annelise Burmeister
Marquis de Chateauneuf - Nicolai Gedda
Admiral Lefort - Fred Teschler

Staatskapelle Dresden
Chor des Leipziger Rundfunks
Robert Heger - conductor, 1966.

Albert Lortzing (1801-1851) was a prolific composer of very tuneful German comic operas, of which "Zar und Zimmermann" is his generally acknowledged masterpiece. Lortzing also wrote the libretto, based on literary sources, for this and his other operas mentioned below. The German genre, known as 'spieloper', grew out of the 'singspiel' tradition of which Mozart's "Abduction from the Seraglio" is the best known example. Though a cousin to the Italian 'opera buffa' and the French 'opera comique' and the Spanish 'zarzuela', the German equivalent never traveled outside the German-speaking world with the success its cousins enjoyed outside their home countries. But such works are still popular at home. Robert Heger was the leading proponent of 19th Century German light opera, among other things (he also excelled in Wagner), in the middle third of the 20th Century. Besides this gorgeous performance of the story of Tsar Peter the Great's early (1697-98) tour of Western Europe, Heger also left stellar recordings of Lortzing's "Undine" and "Der Wildschutz" with great singers the likes of Prey, Schreier, Frick, Gedda, Rothenberger and Wunderlich. Heger also conducted superior recorded performances of other 19th Century German gems such as Weber's "Der Freischutz", Nicolai's "Merry Wives of Windsor" and Flotow's "Martha". All of these recordings are excellent performances of very entertaining works unknown to most people, even many opera lovers. Investigate and enjoy! ---John Jobeless
Diese Aufnahme ist mit Abstand die beste, klarste und frischeste Einspielung dieser Oper. Hermann Prey, wie immer, voll in seinem Element als Zar zwischen Düsterkeit, Mordlust gegen seine Feinde zu Hause und warmherzigem Wohlwollen für das junge Liebespaar. Gottlob Frick sticht als komisch-aufgeblasener Van Bett besonder heraus, weil er nicht übertreibt, sondern seinen Buffo-Bass hervorragend kontrolliert spielen läßt. Erika Köth ist eine bezaubernde Marie, und auch der junge Peter Schreier macht sich als Peter Iwanow zwischen Liebe, Ratlosigkeit und ewig nagender Eifersucht ausgezeichnet. Ebenso die anderen Mitwirkenden, von denen keiner negativ auffällt. Über die Staatskapelle Dresden braucht man eigentlich keine Worte zu verlieren, wie immer phantastisch, unter dem Dirigat von Robert Heger frisch und spritzig aufspielend. Besonders hervorzuheben ist der Rundfunkchor Leipzig, der wohl als weiterer Höhepunkt dieser Einspielung genannt werden darf. Keine andere Einspielung bringt die "Singschule" so witzig und virtuos. Das Klangbild ist (für EMI erstaunlich) sehr frisch und unrauschig, gerade in Anbetracht des Alters der Einspielung (37 Jahre!) bemerkenswert. Die allererste Wahl!
download: uploaded yandex anonfiles yandex 4shared mediafire solidfiles mega nornar
Last Updated (Sunday, 02 February 2014 13:25)