Witold Malcuzynski plays Bach-Busoni, Brahms and Franck (2003)
Witold Malcuzynski plays Bach-Busoni, Brahms and Franck (2003)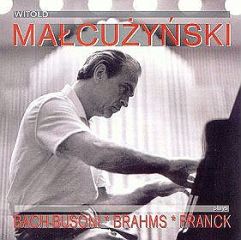 1 Johann Sebastian Bach/Ferrucio Busoni
Chaconne from Partita No.2 in D minor
2 Johannes Brahms
Variations and Fugue on a theme by Handel op.24
3 Johannes Brahms
Rhapsody in G minor op.79 No.2
4 Cesar Franck
Prelude, Choral and Fugue

Recorded: 1970 (1-2), 1971 (3-4)

Witold Małcużyński – piano

The great Polish pianist Witold Malcuzynski (1914-1977) was one of the most outstanding musicians of his time. He At the pianounderstood the romantic piano like few and gave us the gift of the truest and probably most passionate interpretations ever to exist. This is a tribute to the artist who once amazed the world with a style and a conception that should not remain unknown to music lovers nowadays.
Pianista, urodzony 10 sierpnia 1914 w Koziczynie (Wileńszczyzna), zmarł 17 lipca 1977 w Palma de Mallorca. Studiował grę na fortepianie pod kierunkiem Jerzego Lefelda (1929-32) i Józefa Turczyńskiego (1932-36), a przedmioty teoretyczne u Piotra Rytla i Kazimierza Sikorskiego w Konserwatorium Warszawskim, które ukończył dyplomem z odznaczeniem. W latach 1932-34 odbył równocześnie studia z zakresu prawa i filozofii na Uniwersytecie Warszawskim. W 1936 zajął V miejsce na Międzynarodowym Konkursie Pianistycznym w Wiedniu. Na przełomie 1936 i 1937 pracował pod kierunkiem Ignacego Jana Paderewskiego w willi w Riond Booson, przygotowując program na Konkurs Chopinowski. W 1937 zdobył III nagrodę na 3. Międzynarodowym Konkursie Pianistycznym im. Fryderyka Chopina w Warszawie. Swoje umiejętności pianistyczne doskonalił w latach 1937-38 u Marguerite Long i Isidore'a Philippa w Paryżu. Od 1945 koncertował niemal na całym świecie. W 1949 odbył światowe tournée z programem chopinowskim z okazji 100. rocznicy śmierci Fryderyka Chopina, które zainaugurował recitalem w Carnegie Hall, a zakończył 17 października w paryskiej sali Palais Chaillot. W 1958, po raz pierwszy po wojnie, zagrał w Polsce (Warszawa, Katowice, Kraków, Poznań). W 1960 odbył również światowe tournée w 150. rocznicę urodzin Chopina, dając prawie 150 koncertów.
Repertuar Witolda Małcużyńskiego obejmował przede wszystkim utwory Fryderyka Chopina, ale także Ferenca Liszta, Johannesa Brahmsa, Karola Szymanowskiego, Aleksandra Skriabina, Claude'a Debussy'ego, Béli Bartóka i Sergiusza Prokofiewa. Był niezrównanym interpretatorem "Koncertu fortepianowego A-dur" Liszta, "Koncertu fortepianowego b-moll" Piotra Czajkowskiego, "Koncertu fortepianowego d-moll" Sergiusza Rachmaninowa, "Koncertu fortepianowego d-moll" Brahmsa.
download: uploaded yandex 4shared mediafire solidfiles mega zalivalka filecloudio anonfiles oboom
Last Updated (Monday, 07 July 2014 15:39)