Robert Simpson - Symphonies No 2 & 4 (1992)
Robert Simpson - Symphonies No 2 & 4 (1992)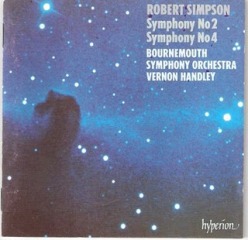 1. Symphony No. 2: Allegro grazioso
2. Symphony No. 2: Largo cantabile            play
3. Symphony No. 2: Non troppo allegro, ma con brio
4. Symphony No. 4: Allegro moderato
5. Symphony No. 4: Presto
6. Symphony No. 4: Andante
7. Symphony No. 4: Allegro vivace

Bournemouth Symphony Orchestra
Vernon Handley – conductor

Robert (Wilfred Levick) Simpson (2 March 1921 – 21 November 1997) was an English composer and long-serving BBC producer and broadcaster. He is best known for his orchestral and chamber music (including 11 symphonies and 15 string quartets), and for his writings on the music of Beethoven, Bruckner, Nielsen and Sibelius. He studied composition under Herbert Howells. Remarkably for a composer who was still alive, a Robert Simpson Society was formed in 1980 by individuals concerned that Simpson's music was unfairly neglected. The Society works to bring Simpson's music to a wider public by sponsoring recordings and live performances of his work, by issuing a journal and other publications, and by maintaining an archive.
The Symphony No. 2 by Robert Simpson was completed in 1956 and dedicated to Anthony Bernard, conductor of the London Chamber Orchestra, though the first performance was in fact given by the Hallé Orchestra conducted by Sir John Barbirolli in 16 July 1957 at the Cheltenham Festival. This is one of Simpson's most accessible works. He used similar orchestration to that used by Ludwig van Beethoven in his early symphonies, with the exception of high D trumpets being used instead of the standard B flat trumpets.
The Symphony No. 4 by Robert Simpson was written between 1970 and 1972 and commissioned by the The Hallé who gave the premiere, conducted by James Loughran, at the Free Trade Hall, Manchester, on 6 April 1973. The symphony was Simpson's largest work to date and uses a reasonably large orchestra. This was Simpson's first 'orthodox' four movement symphony and is the only one consciously 'classical' in layout. The overall tonality is E flat, and the work contains many musical references to Ludwig van Beethoven and Joseph Haydn.
"What was it that prompted a living British composer to quote from the first movement of SYMPHONY NO. 76 in E flat? The composer in question—Robert Simpson—took this simple idea (a passage not even derived from the main theme) because of its innocence. It appears in the Trio section of Simpson's Fourth Symphony (1972) and from the composer's point-of-view is an important motif; the contrast of this innocent idea with what had gone before is instrumental in altering the nature of the reprise of the Scherzo." --Antony Hodgson
download: uploaded yandex 4shared mediafire solidfiles mega zalivalka filecloudio anonfiles oboom
Last Updated (Sunday, 11 May 2014 20:35)