Out of Russia (Gidon Kremer) [1999]
Out of Russia (Gidon Kremer) [1999]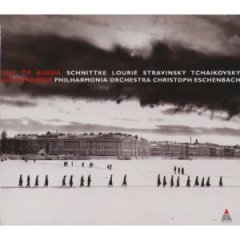 1. Stravinsky - Pastorale For Violin And Wind Quartet    play
2. Schnittke - Violin Concerto No. 4: Andante
3. Violin Concerto No. 4: Vivo (Cadenza Visuale)
4. Violin Concerto No. 4: Adagio
5. Violin Concerto No. 4: Lento (Cadenze Visuale)
6. Lourie -  The Blackamoor Of Peter The Great - Symphonic Prose –
 Orchestral Suite Based On Original Instrumental And Vocal Passages Adapted From The    Opera: Introduzione: Lento
7. The Blackamoor Of Peter The Great - Allegro
8. The Blackamoor Of Peter The Great - Lento
9. The Blackamoor Of Peter The Great - The Dance Of The Night And The Wind
10. The Blackamoor Of Peter The Great - The Appearance Of The Silver Egg
11. The Blackamoor Of Peter The Great - Hymn To Eros     play
12. The Blackamoor Of Peter The Great - Amor's Aria
13. The Blackamoor Of Peter The Great - Toccatina
14. The Blackamoor Of Peter The Great - Dance Of The Skomorochs (Harlequins)
15. The Blackamoor Of Peter The Great - Les Adieux: Prelude De Concert
16. The Blackamoor Of Peter The Great - Coda
17.  Tchaikovsky-Stravinsky - The Sleeping Beauty: Variation De Le Fee De Lilas:
 Allegro Con Moto
18. The Sleeping Beauty: Entr'Acte: Andante Sostenuto
19. Lourie - Funeral Games In Honor Of Chronos

Gidon Kremer – violin
Philharmonia Orchestra
Christoph Eschenbach - conductor

This somewhat esoteric Russian program begins with the charming little Stravinsky "Pastorale" for violin and wind quartet. An arrangement of the composer's "Vocalese" from 1907, this droll piece makes a perfect opening for this unusual program, and is beautifully done by members of the Philharmonia. But listeners should brace themselves for what follows, the disturbing, violent (and totally terrific) Schnittke Violin Concerto No. 4 (1984). In four movements, it lurches from genial passages to those that are positively scorching. Gidon Kremer (the work's dedicatee) will be hard to top in his frightening intensity, including some eerie vocal work, and Christoph Eschenbach and the Philharmonia are right up there with him in virtuosity. It is easily one of the most brilliant Schnittke performances I've ever heard.
An orchestral suite from Arthur Vincent Lourie's opera, "The Blackamoor of Peter the Great" (1961) comes next and is a fascinating oddity, and also notable for Schnittke's hand in orchestrating one of the middle movements, the "Ballet No. 3: Hymn to Eros." Throughout, the language is not too distant from Schnittke himself, perhaps with Shostakovich hovering nearby. The Philharmonia woodwind work is particularly notable and satisfying, but the entire ensemble presents the score with great power and commitment (as with everything here).
Stravinsky appears again in a charming instrumentation of two short excerpts from Tchaikovsky's "Sleeping Beauty" which make a lovely break after the intensity of the Schnittke and Lourie works. Stravinsky's effort here transforms the sound into something resembling his own "Baiser de la fee" ("The Fairy's Kiss") and is completely winning, including a star turn for solo violin that Kremer executes beautifully.
The ten-minute Lourie that follows, "Funeral Games in Honor of Chronos" (1964) is scored for three flutes, piano (Eschenbach, who contributes some gorgeous playing) and cymbals, and makes a beautiful, somber ending to the program. I really admire the slightly offbeat programming of this recording, which combines massive orchestral works with lighter chamber pieces in between, and shows Eschenbach at his most imaginative.
Once again Kremer shows himself to be one of the current scene's great champions of this repertoire, and the Schnittke in particular, is one of the finest examples of this composer's output on disc. (It has been re-issued on a Teldec set of all four violin concertos, all conducted by Eschenbach.) The sound quality is excellent throughout, with a keen "you are there" presence.
download: uploaded anonfiles yandex 4shared solidfiles mediafire mega filecloudio
Last Updated (Friday, 22 November 2013 10:14)