Johan Helmich Roman - A Musical Portrait (1996)
Johan Helmich Roman - A Musical Portrait (1996)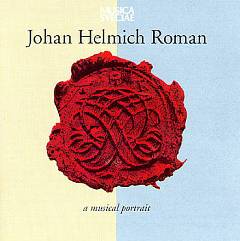 1. The Royal Wedding Music Of Drottningholm: I Allegro 
2. The Royal Wedding Music Of Drottningholm: II Allegretto 
3. The Royal Wedding Music Of Drottningholm: IV Poco Allegro
4. The Royal Wedding Music Of Drottningholm: XXIII Vivace
5. Violin Concerto in f: I (Allegro) - Elizabeth Wallfisch
6. Violin Concerto in f: II Larghetto - Elizabeth Wallfisch
7. Violin Concerto in f: III Allegro - Elizabeth Wallfisch
8. The Swedish Mass: II Glory To God In The Highest
9. The Swedish Mass: VIII Son Of The Father, Only Begotten 
10. Trio Son in b: I Larghetto - Trio Sonnerie
11. Trio Son in b: II (Allegro) - Trio Sonnerie
12. Trio Son in b: III Andante - Trio Sonnerie
13. Trio Son in b: IV (Allegro) - Trio Sonnerie
14. Assagio in A: I (Andante) - Jaap Schroder
15. Assagio in A: II (Allegro) - Jaap Schroder
16. Sinfonia e: I Allegro Staccato
17. Sinfonia e: II (Attaca Larghetto) 
18. Sinfonia e: III Allegro Assai 
19. Sinfonia e: IV Allegro 
20. Jubilate: I. Make A Joyful Noise 
21. Jubilate: II. Know Ye That The Lord Is God
22. Jubilate: III. Enter Into His Gates
23. Jubilate: IV. For The Lord Is Good
24. Jubilate: V. Glory Be To The Father

Christina Hogman 	Soprano 
Hillevi Martinpelto 	Soprano 
Susanne Ryden 		Soprano 
Anne Sofie von Otter 	Alto 
Par Lindskog 	Tenor 
Peter Mattei 	Bass 
Mikael Samuelson 	Bass

Lisa Beznosiuk 	Flute
Anthony Robson 	Oboe
Jaap Schröder 	Leader, Violin
Elizabeth Wallfisch 	Violin
Johann Sonnleitner 	Harpsichord

Eric Ericson Chamber Choir
Adolf Fredriks Bachkör 	
Drottningholm Baroque Ensemble 
Orchestra of the Age of Enlightenment 	Orchestra
Eric Ericson 	Conductor
Anthony Halstead 	Conductor
Anders Ohrwall 	Conductor

The "Father of Swedish Music," Johan Helmich Roman, was one of the most influential Swedish composers of his time, not only because of his numerous compositions, but also for his role in moving the music of the great composers from the royal court to public concerts in Stockholm. He was also influential in promoting the use of the Swedish language in sacred texts and in developing an indigenous tradition of vocal writing in secular and sacred music.
Roman spent a considerable part of his life and career in the courts of Sweden's royalty, from Charles XII to Adolph Fredrik and Lovisa Ulrica. Roman received an early education in music. His father served as a member of the court orchestra and at the age of seven, Roman performed as a violinist for the court. At the age of 16, he became a permanent member of the court orchestra. Roman is thought to have mastered many different instruments, but his primary interests were the violin and oboe.
Roman lived and worked in a time where music was in transition between Baroque and Classical styles. His music was influenced by the English and Italians, no doubt due to his contacts with Handel and Geminiani. However, there are also subtle flavors of French and German influence. He traveled abroad twice in his career; first to England from 1715 to 1721, and then an extensive tour of Europe from 1735 to 1737. During his European journey, Roman returned to England and then ventured on to Germany, Austria, France, and Italy. These travels allowed him to experience the music endemic to their region and to study with composers such as Pepusch.
During the reign of Charles XII, in 1721, Roman was appointed vice-kapellmeister of the royal chapel orchestra. On January 23, 1927, he achieved the position of kapellmeister under the reign of Fredrik and Ulrica. It was under this new authority that he instigated the transition of musical performances from the nobles' courts to the bourgeoisie public. In addition to providing a larger audience for his own compositions, these concerts for the common people also served as vehicles with which to introduce foreign musical works.
There is little written record available today that details Roman's compositional career; much of what is written has relied on sources whose accuracy has been called into question. It appears to have begun in the mid-1720s. Roman's earliest known composition is the cantata Festa musicale (1725). During this period (1725-1730), Roman produced a variety of cantatas, sonatas, and suites. In particular, he composed 12 Flute Sonatas (1727), which was followed by Golovin-musik in 1728 and the Suite 8, circa 1730. The 1730s and 1740s were perhaps his most productive years. The suite in E major, a suite in D major, and his most famous orchestral suite, Drottningholmsmusik, were products of this period. Beyond this, it appears that Roman focused on sacred songs.
Roman survived two wives who bore him seven children between them. His first wife, whom he married in 1730, died four years later. He married his second wife in 1738, who died two years after she gave birth to their fourth child. In addition to the burden of raising a household of small children, Roman was afflicted with increasing deafness and later, increasingly poor health. These burdens made it more difficult to continue his duties in the capital, so in the mid-1740s he moved to the Baltic coast, where he translated theoretical works about music into Swedish. ---Bruce Lundgren, Rovi
download: uploaded yandex 4shared mediafire solidfiles mega zalivalka filecloudio nornar anonfiles oboom ziddu
Last Updated (Monday, 14 April 2014 22:42)