Renaissance Dances (2008)
Renaissance Dances (2008)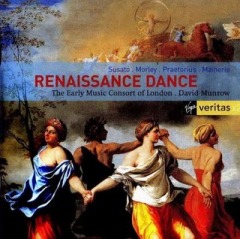 CD1
1.  La Mourisque 
2. Branle Quatre - Bransles
3. Ronde and Salterelie
4. Ronde mon Amy
5. Allemaigne and Recoupe
6. Pavane 'Mille regretz'
7. Basse danse Bergeret sans Roch and reprise
8. Danse du Roy
9. Ronde
10. Passe et Medio
11. Reprise le Pingue
12. Ronde
13. Pavane la Bataille
14. Mounsier's Almaine (Byrd)
15. Lachrimae Pavan (Dowland)
16. Michill's Galliard
17. Lute duet: my Lord Chamberlain's Gaillard (Dowland)
18. The Jew's Dance (Richard Nicholson)
19. Captaine Piper's Pavan and Gaillard (Dowland)
20. My Lord of Oxenford's Maske (Byrd)
21. Lavolto - La Coranto (Morley)

CD2
1. Passamezz a 6
2. Spagnoletta a 4
3. La Bourrée
4. Pavane de Spaigne a 4
5. Courante M.M Wustrow a 4
6. Suite de ballets
7. Gaillard- Reprise secundam inferiorwem a 4
8. La Sarabande
9. Suite Voltes
10. Pass'e mezzo della Paganina-Ballo Francese-La Lavandara,-L'Arboscello Ballo Furlano-  	La Zanetta  
11. Canzone a 8
12. La Negrona (canzona)
13. Canzona prima a 12
14. Five Dances: Pass'e mezzo Moderno-Ballo Anglese-Schiarazula Marazula-Ongarescha-	Tedescha 

The Early Music Consort of London
David Munrow – Conductor

The Renaissance began in Italy during the 1400's, it is one of major cultural and intellectual moments in Western Civilization, with the discovery of the early Greek and Roman writing preserved in the Arab texts. A new artistic culture developed including music from the Early Church music of Gregorian Chant into what is now call polyphony, or many voices including growing national music traditions. The Renaissance slowly spread from their Italy city states roots, especially Venice, to its trading partners with the beginnings of printed or written music. Renaissance Music developed as it impacted the local national traditions, such as later in England.
There was sacred music to the "Glory of God", and secular music often played as entertainment at Court, or for the latest new dance music and dance steps. Many of these dance tunes were often based on traditional tunes that were re-orchestrated for the needs of the Court. The rise of new types of instruments also expanded the variety of the presentations such as the early stringed instruments, woodwinds, brass, and keyboard instruments. The wealthy were often measured by the size, and quality of their musicians, and in musical groups. Musicians found their way into the musical courts of Europe bring their new music traditions with them. King Henry the VIII, and the English Court hired musician from across Europe. The ability to perform those complicated dance movements of the period were often a measure of ones status at Court under Henry VIII and Queen Elizabeth I.
Renaissance Dance is an excellent 2CD set, as an introduction to the music of the Middle and Late Renaissance Periods which may be the most popular periods, and familiar to the average listener of Renaissance music. There are three major sections:Tylman Susato (ca. 1510-70) a popular Dutch music publisher and his compilations of traditional music known as Danserye (1599). Thomas Morley (1558-1602) was a major English composer of the period, including his consort pieces included here. Last but not least is Michael Pretorius (1571-1621) was a prominent composer who wanted to preserve some of the earlier repertoire for future generations in his major collection of dance tunes known as Terpsichore (1612). There is also a smattering of other representative works of the period that round out this excellent collection. I have a number of Early Music CD's in my collection, this is one that I listen to frequently over time due to the quality of the recorded performances.
David Monroe (1942-76) was an important English musician and a musical historian of Early Music. Monroe and Christopher Hogwood (b. 1941) started the Early Music Consort (1967-73), an ensemble performing Early Music on period instruments Their success with The Six Wives of Henry VIII (1970), and Elizabeth R (1971) programs on the BBC made the group famous. Monroe along with Hogwood, Philip Pickett, and Jordi Saval were major pioneers in the Early Music movement of today. Monroe died in 1976 from the effects of depression.
There is an interesting conundrum regarding Early Music. There is something more than the just stereotypic recorders, or crumhorns. We have a great deal of music manuscripts that has been preserved through the years, the problem is there is little if any specific instrumentation indicated. Basically the early ensembles were filled from what was available on hand in the time. Henry VIII had a number of different ensembles of various instrumental groups available to him over time in his Court.
Not unlike many of J.S. Bach's works that are still can be played by diverse ensembles. I have a very nice recording of the Trio Sonatas played by a woodwind quartet, and also on the organ for example. There are recordings of Terpsichorie (1612) that have been performed by a string ensemble, which may be historically accurate.
One of the great pleasures of Early Music is to listen to the unfamiliar whistles, buzzing and sounds of non-modern ensembles. These were some of the first Period Instrument Group recording. There is no correct "sound" for this period music. This is one of the pleasures of listening to this music. There are a number of excellent Renaissance group that are also available on CD some of which are: Calliope, Piffaro, Camerata Hungarica, Musica Reservata, Armada,, Collegium Terpsichore, Clemenic Consort, New London Consort, New York Renaissance Band. I have a number of Early Music CD's in my collection, this is the one CD I listen to the most frequently over time due to the quality of the recorded performances, and content.
If you might be interested in Early Music, you cannot go wrong with any CD's from David Monroe. These are historically accurate performances by one of the pre-emminent musicians of the early historical instrument repertoire. Unfortunately there is a somewhat limited number of his CD's available from the 1963-76. There are still ongoing professional discussions on what may be considered as an "historical performance" for this period music.
If you have an interest in Early Music, you might take a look at a 2 CD set by Virgin Veritas x2, "Instruments of the Middle Ages and Renaissance" from David Monroe and The Early Music Consort of London. This is an excellent introduction of the history of early instruments with a nice informative booklet. You get to hear actual performances of historically accurate instruments on early period music.
You might also wish to consider the following CD: Praetorius: Dances from Terpsichore, New London Consort, Philip Pickett. Mr. Pickett gives you an excellent rendering of this music. There is some slight difference in instrumentation, and performance which are still "historically accurate" which may help to expand a better understanding some of the complexity of the period. You also get a larger selection of the Dances from Terpsichore, a major work of the period. This is a very good performance from a very professional ensemble under the direction of Mr. Pickett. This CD would be nice addition to any collection of Early Music, IMHO.
Take a closer look at both Medieval and Renaissance music CD's on Amazon. There is much excellent music available here that is too often overlooked by too many who are simply not as well informed of the quality of Early Music. Check out some of the Early Music groups that are listed above, and check out the MP3's. You might find something of interest, IMHO.
Remember Classical listening music may help to extend your life, and you get this great music as a bonus. ---Burnham Woods, amazon.com
download: uploaded yandex 4shared mediafire solidfiles mega filecloudio nornar
Last Updated (Friday, 04 April 2014 19:28)