Renaissance Masterpieces (Oxford Camerata) [1994]
Renaissance Masterpieces (Oxford Camerata) [1994]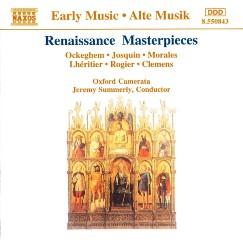 1 Johannes Ockeghem -	 Intemerata Dei Mater     	8:10
2 Attrib. Josquin Desprez - Nunc Dimittis	6:54
3 Cristóbal de Morales - Magnificat (Octavi Toni)	7:29
4 Jean Lhéritier - Surrexit Pastor Bonus		6:13
5 Philippe Rogier - Laboravi In Gemitu Meo	6:35
6 Jacob Clemens - Ego Flos Campi	6:02
7 Giovanni Pierluigi da Palestrina - Si Ignoras Te		3:12
8 Orlande de Lassus - Lauda Mater Ecclesia	4:46
9 Tomás Luis de Victoria - Vadam Et Circuibo	11:24
10 William Byrd - Laudibus In Sanctis	5:52
11 King João IV of Portugal - Crux Fidelis	2:20

Jeremy Summerly - conductor
Oxford Camerata Choir:
Alison Coldstream, Andrew Carwood, Carys-Anne Lane, Deborah Mackay, Edward Wickham, James Gilchrist, 
Janet McMullin, Jonathan Arnold, Julian Smallbones, Michael McCarthy, Rebecca Outram, Robin Blaze

Recorded At Chapel Of Hertford College, Oxford

The songs in this magnificent album have two different themes: religion and love. But, their treatment is the same. It is a mix of laments, prayers, wishes and celebrations of the worshipped or loved one(s).
Religious texts
In 1 – Intemerata Dei mater by J. Ockeghem:
'Thou knowest what great danger surrounds us in our exile. Without thee there remains neither hope in our labour, 
neither safety for our land.'
In 2 – Nunc dimittis (attr. Josquin Desprez): 
'Lord, now lettest thy servant depart in peace.'
In 3 – Magnificat by C. de Morales: 
'He had put down the mighty and exalted the humble and the meek. He had filled the hungry with good things, 
and the rich he had sent empty away.'
In 4 – Surrexit pastor bonus by J. Lhéritier: 
'The good shepherd who laid down his life for his flock has risen.'
In 8 – Lauda mater ecclesia by O. de Lassus: 
'praise the mercy of Christ who purges sins.'
In 10 – Laudibus in sanctis by W. Byrd: 
'Celebrate the Lord.'
11- Crux fidelis by King João IV of Portugal is an excerpt of the 'Pange lingua' hymn written by Thomas Aquinas.

Love songs
In 5 – Laboravi in gemitu meo by P. Rogier: 
'every night I water my couch with my tears'.
In 9 – Vadam et circuibo by T.L. da Victoria: 
'I am sick with love.'

Spirits are higher in the well-known song 6 – Ego flos campi by J. Clemens non Papa: 
'as a lily among thorns so is my beloved among women', 
and even more (risqué) in 7 – Si ignoras te by G.P. da Palestrina: 
'O fairest among women, I compare thee to a mare of Pharaoh's chariots.'

Music
The songs shine through their beautiful melodies (1, 3, 4, 5, 6, 7, 10), their alternations of crescendos and decrescendos (1, 3), their sophisticated imitations (1, 2, 3, 4, 11), their impressive sound combinations (6, 7, 8, 9) or the accentuation of certain crucial words in the text: 3 – Amen, 5 – lacrymis, 8 – Gloria, 9 – adjuro vos, 10 – alleluia).
Some lamentos (5, 9) are 'real' ones, as being too slow certainly for modern ears.
The absolute highlights are 10 – Laudibus in sancti by W. Byrd with its impressive vivid imitations and rhythm changes, a real celebration; and, 7 – Si ignoras te by G.P. da Palestrina with its sublime combination of beautiful polyphonic sounds.
The songs are sublimely interpreted by the Oxford Camerata and its conductor Jeremy Summerly. A must have. One regret however: only English translations of the texts. --- Luc REYNAERT, amazon.com
download (mp3 @192 kbs):
uploaded yandex 4shared mediafire mega solidfiles zalivalka cloudmailru filecloudio oboom