Ned Rorem - Selected Songs (2001)
Ned Rorem - Selected Songs (2001)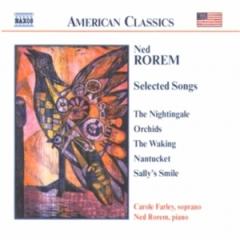 1 Ned Rorem - The Waking 			2:46 	
2 Ned Rorem - Root Cellar 			2:02 	
3 Ned Rorem - My Papa's Waltz 			1:23 	
4 Ned Rorem - I Strolled Across an Open Field 		1:16 	
5 Ned Rorem - Memory 			1:08 	
6 Ned Rorem - Orchids 			1:58 
7 Ned Rorem - The Serpent 			1:58 	
8 Ned Rorem - Night Crow 			1:36 	
9 Ned Rorem - Snake 			0:59 	
10 Elinor Wylie - Little Elegy 			1:26 	
11 Ned Rorem - The Nightingale 			1:14 	
12 Ned Rorem - Nantucket 			1:13 	
13 Ned Rorem - Lullaby of the Woman of the Mountain 		2:02 	
14 Ned Rorem - Love in a Life 			3:31 	11
15 Ned Rorem - What if Some Little Pain... 			1:49 	
16 Ned Rorem - Visits to St. Elizabeth's 			3:34 
17 Ned Rorem - Stopping By Woods on a Snowy Evening 		1:45 
18 Gerard Manley Hopkins - Spring 			0:59 	
19 Ned Rorem - See how they love me 			1:40 	
20 Alfred Tennyson - Now Sleeps the Crimson Petal 			2:53 	
21 Ned Rorem - I am Rose 			0:23 	
22 Ned Rorem - Ask Me No More 			3:00 	
23 Ned Rorem - Far-Far-Away 			1:48 	
24 Robert Hillyer - Early in the Morning 			1:37 	
25 Bible - Alleluia 			5:10 	
26 Ned Rorem - Such Beauty as Hurts to Behold 			2:12 	
27 Ned Rorem - Sally's Smile 			0:51 	
28 Ned Rorem - Youth, Day, Old Age, and Night 			2:06 
29 Walt Whitman - O You Whom I Often and Silently Come 		0:27 	
30 Ned Rorem - Full of Life Now 			1:48 	
31 Ned Rorem - As Adam Early in the Morning 			1:26 	
32 Ned Rorem - Are You the New Person? 			2:30

Carole Farley – soprano
Ned Rorem – piano

American popular song, whether standards, show tunes,jazz, blues, or rock, is one of our country's most visible artistic achievements. American classical (or Art) songs are much less known. Ned Rorem (b. 1923) is probably the greatest American composer in this unfamiliar medium. Rorem is sometimes dubbed the "American Schubert."
This disc features 32 of Ned Rorem's songs for voice and piano. Soprano Carole Farley is the accomplished singer, and Ned Rorem himself plays the piano. The disc is special because it features settings of the works of American poets. The CD begins with 9 settings of poems by the mid-twentieth century poet, Theodore Roethke, and concludes with settings of 5 poems by Walt Whitman. The disc also includes settings of poems by William Carlos Williams, Gertrude Stein, and Paul Goodman, among others. Thus the disc combines in a special way American creative effort in poetry and in music.
Rorem's songs are declamatory in style. Typically, the voice line delivers the text of the poetry in a sort of chant. The relationship between the voice line and the piano is far from Schubertian. Generally, the piano takes a separate line and accentuates the voice by means of large chords or by runs or by other comments and punctuation on the voice. The texts are well set and the music is effective. There are some unusual harmonies with jazz and blues influences. Rorem's piano accompanyment on this disc gives the recording a sense of authenticity -- we get a good idea of how the composer wants his songs to be conveyed.
The disc includes excellent program notes and texts of all the songs. Naxos has received deservedly high praise for its "American Classics" series which makes much music written by Americans available on CD at a low price. This disc includes some lovely, little-known songs. It is an excellent introduction to the American art song and to the music of Ned Rorem. --- Robin Friedman, amazon.com
download: uploaded yandex 4shared mediafire solidfiles mega zalivalka filecloudio nornar anonfiles oboom ziddu
Last Updated (Tuesday, 15 April 2014 10:15)