Favourite Harp Concertos (1998)
Favourite Harp Concertos (1998)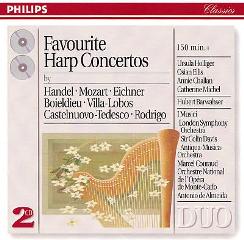 CD1

Handel: Harp Concerto in B flat, Op.4, No.6, HWV 294 - Transcr. from Organ Concerto No. 6
1. 1. Andante allegro	Ursula Holliger	6:00
2. 2. Larghetto	Ursula Holliger	4:42
3. 3. Allegro moderato	Ursula Holliger	2:33	

André Pépin (Flute), Jean-Claude Hermanjat (Flute), Ursula Holliger (Harp)
I Musici

Mozart: Concerto for Flute, Harp, and Orchestra in C, K.299
4. 1. Allegro	Hubert Barwahser	9:42
5. 2. Andantino	Hubert Barwahser	9:11	
6. 3. Rondo (Allegro)	Hubert Barwahser	9:28

Osian Ellis (Harp), Hubert Barwahser (Flute)
London Symphony Orchestra
Sir Colin Davis - conductor

Eichner: Concerto in C major for harp and orchestra
7. 1. Allegro	Annie Chalan	5:28
8. 2. Andante	Annie Chalan	4:31
9. 3. Tempo die minuetto	Annie Chalan	4:14	

Annie Challan (Harp)
Antiqua Musica
Marcel Couraud - conductor

Boiëldieu: Concerto for Harp and Orchestra in C - Arr. C. Stueber
10. 1. Allegro brillante	Orchestre National de l'Opéra de Monte-Carlo	10:50	
11. 2. Andante lento	Catherine Michel	3:46	
12. 3. Rondo (Allegro agitato)	Orchestre National de l'Opéra de Monte-Carlo	6:02

Catherine Michel (Harp)
Monte Carlo Opera Orchestra
Antonio de Almeida - conductor

CD2

Villa-Lobos: Harp Concerto 
1. 1. Allegro	Catherine Michel	4:40
2. 2. Andante moderato	Catherine Michel	9:04
3. 3. Scherzo	Catherine Michel	10:52	
4. 4. Allegro - Più mosso	Catherine Michel	3:26	

Catherine Michel (Harp)
Monte Carlo Opera Orchestra
Antonio de Almeida - conductor

Castelnuovo-Tedesco: Concertino for Harp and Chamber Orchestra, Op.93
5. 1. Moderato (Quasi passacaglia)	Catherine Michel	6:21
6. 2. Andante (Quasi recitativo)	Catherine Michel	3:48
7. 3. Finale spagnolo (Ritmo di jota)	Catherine Michel	4:49

Catherine Michel (Harp)
Monte Carlo Opera Orchestra
Antonio de Almeida - conductor

8. Rodrigo: Sones en la Giralda - Sones en la Giralda	Catherine Michel	7:56	

Rodrigo: Concerto Serenade for Harp and Orchestra
9. 1. Estudiantina (Allegro ma non troppo - Andante)	Catherine Michel	8:10
10. 2. Intermezzo con aria (Adagio - Allegro moderato)	Orchestre National de l'Opéra de Monte-Carlo	9:03
11. 3. Sarao (Allegro deciso)	Orchestre National de l'Opéra de Monte-Carlo	6:24

Catherine Michel (Harp)
Monte Carlo Opera Orchestra
Antonio de Almeida - conductor

There's nothing quite like classical music to soothe the stress of the afternoon commute (especially on Greater Boston's Rt. 128 or your local equivalent). Harp music, in particular, has an extraordinarily calming effect. I'm not exactly sure why that is (darnit Jim, I'm an engineer not a behavioral psychologist) but I can personally vouch for the results. This two-disc set contains some of the finest music for harp and orchestra ever composed.
Disc 1 contains familiar harp concerti by Handel and Mozart, followed by a lesser known work by Eichner. The melodies and performances are guaranteed to work their way deep into your soul. Ursula Holliger (oboe virtuoso Heinz Holliger's wife, in case you were wondering) produces a stellar performance in the Handel concerto. Her technique and interpretation are both insightful and strongly delivered. The orchestras in question should by no means be ignored. I Musici, The London Symphony, and Musica Antiqua Koln (for the Handel, Mozart, and Eichner, respectively) are all names to be reckoned with in the field and they do not disappoint.
Disc 2 consists of more modern works by composers less familiar even to classical music fans except, of course, those who know Villa-Lobos and Rodrigo for their classical guitar music. The works on the second disc are somewhat less accessible to the casual listener, but after repeated listenings, I find them well worth the effort.
In short, stuffing this CD into your car stereo system (or, as in my case, the passenger-seat boombox) will make that jerk in the Beemer who just cut you off, far less relevant. ---amazon.com
download:  uploaded anonfiles yandex 4shared solidfiles mediafire mega filecloudio nornar
Last Updated (Friday, 27 December 2013 17:29)