Willie Dixon (1)
Willie Dixon
1. I Am The Blues 1983 (FLV)
280 MB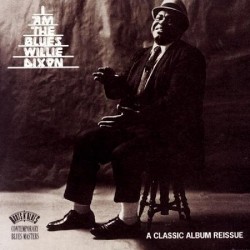 .I Just Want To Make Love To You
.I Got The Blues
.Wang Dang Doodle
.Seventh Son
.Peace
.Sandy Field
.Built For Comfort
.Jungle Songs

Personnel: 
Willie Dixon (vocals, bass); 
Johnny Shines (guitar); 
Walter "Shakey" Horton (harmonica); 
Sunnyland Slim, Lafayette Leake (piano); 
Clifton James (drums).

Titling an album I AM THE BLUES might seen like an unseemly boast, but if there is anyone in blues history who can stand up to that piece of bravura, it's Willie Dixon. Over the course of his career, and in particular during his tenure at Chess Records in the '50s and '60s, he produced most of the best work of Muddy Waters, Howlin' Wolf, and a host of other greats. He also penned a suitcase full of tunes that defined Chicago blues, easily the most influential strand of the blues in the post-war era.
download:  4shared anonfiles mega yandex mixturecloud
Last Updated (Monday, 03 June 2013 19:16)