Allan Holdsworth and Alan Pasqua - Live at Yoshi's 2007
Allan Holdsworth and Alan Pasqua - Live at Yoshi's 2007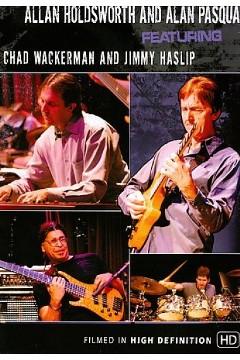 Setlist:
1. The Fifth
2. Looking Glass
3. Fred
4. It Must Be Jazz
5. Blues For Tony
6. Pud Wud
7. Protocosmos
8. Red Alert

Line Up:
Allan Holdsworth (guitar); 
Alan Pasqua (keyboards); 
Jimmy Haslip (Bass); 
Chad Wackerman (Drums).

This is just a "must have" for any Holdsworth fan. It is expensive but the quality is incredibe. The other reviewer states that Alan Pasqua is "the weak link"??? Alan Pasqua is brilliant and every solo he takes is stunning!!(amazing really) He gets incredible sounds out of his NORD synth!! Sheer sonic beauty from his synth. Holdsworth has no "weak links" in his bands. Wackerman is killer and under-stated as always and the bass playing is great as well. I had the opportunity to seem Holdsworth live 6 months ago and he was incredible as always. Rather than telling him how great he was when I spoke to him I asked :What did you think of how you played tonight"? He said (exact quote: "I s_ ck_d!".
I shouldn't have been surprised because he is EXTREMELY self-critical but this guy communicates with aliens folks. He is one of the premier guitar beings on this planet. People will study him long after he's gone. A genius working in our lifetime! If you want Holdsworth footage this is the best so far in terms of pro-shot quality. Stay away from that "live at the galaxy" thing. ---herb, amazon.com
download:  1fichier yandex 4shared mega