Muddy Waters (3)
Muddy Waters
1. Messin' With The Blues 1974 (Flv)
280 MB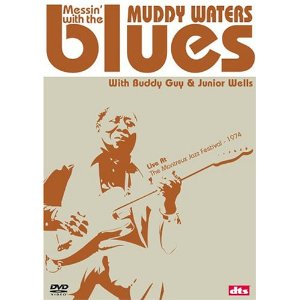 Messing' with the Kid
Hoodoo man blues
When You See the Tears from my Eyes
Ten Years Ago
Hoochie Coochie Man
Mannish Boy
The Same Thing
Got my mojo working

Musicians:
Muddy Waters – vocals, guitar 
Buddy Guy – vocals, guitar
Junior Wells – vocals, harmonica
Bill Wyman - bass
Pinetop Perkins, - piano
Terry Taylor - guitar
Dallas Taylor - drums

Recorded live in 1974 at The Montreaux Jazz Festival in Switzerland.

This is a 1974 Montreux concert that ostensibly featured Muddy Waters but really showcases Buddy Guy and Junior Wells after they had teamed up. Well the real gems are the first four numbers with Junior Wells doing "Hoodoo Man", an interesting slow version and his early seventies Blues hit with Buddy "Messin With The Kid" (this tune was named by Well's handicapped daughter). This was culled from the famous LP of the early 1970s Buddy Guy and Junior Wells cut together.
Buddy offers his vocal talents on "Ten Years Ago" and showcases his guitar showmanship with his neat sunburst 1950s stratocaster! He also offers "When The Tears Are Falling From My Eyes" in which he incorporates his passionate vocal style. Junior Wells also demonstrates his prowess on the chromatic harp that he had learned from Little Walter! Great! This is the only footage of these two Blues Masters ever released from this period and is a reason to purchase this DVD! The only other footage is from their dubious and poorly sound tracked performance in John Mayall's "Jammin With The Blues Greats". These tunes are not even included in the Junior Wells Story DVD also released last year!
Muddy Waters segment is also excellent. The father of Chicago Blues sings with life and vigour that isn't seen in his "Chicagofest" DVD, or many of his other releases and stands up for part of the performance! A curious selection of tunes is also offered. He starts with "Hootchie Cootchie Man" and then does "Mannish Boy" which are rather similar. I get a bit upset that Muddy never gave Bo Diddley credit for the writing of that tune. Which he took more than half the lyrics from. Of course the finale "I Got My Mojo Working" is a typical tour de force and the perfect final tune. I love the reprive of the tune as a bit of an encore!!
This is an exceptional Blues music experience. Do not miss it! The interviews with Buddy Guy and Muddy's son are also great bonus items. Anyone interested in Blues Music should own this concert.
download: yandex 4shared gett mega mixturecloud
2. Blues Summit in Chicago 1974 (Mp4)
180 MB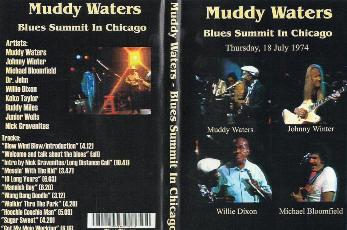 1. Blow Wind Blow/Introduction
2. Welcome and talk about the blues
3. Intro by Nick Gravenites/Long Distance Call
4. Messin' With The Kid
5. 10 Long Years
6. Mannish Boy
7. Wang Dang Doodle
8. Walkin' Thru The Park
9. Hoochie Coochie Man
10. Sugar Sweet
11. Got My Mojo Working

Artists:
Muddy Waters, vocals, guitar 1-3,6,9,11
Michael Bloomfield, guitar 1-11
Dr. John, vocals 10, piano 1,2,5-11
Phil Guy, guitar 7-9
Willie Dixon, vocals 7,9,11
Koko Taylor, vocals 2,7,11
Buddy Miles, drums 2,6-11
Johnny Winter, vocals 2,8, guitar 6-11
Junior Wells, hca 3-6,8-11, vocals 2,4,5
Nick Gravenites, vocals 2,4, intro 3
Muddy Waters' Band (probably):
Al Radford, bass 1,3-11
Willie "Big Eyes" Smith, drums 1,-3-5
"Pine Top" Perkins, piano 1,3,4,11

Blues Summit in Chicago Thursday, 18 July 1974

download: yandex 4shared gett mega anonfiles sugarsync mixturecloud
3. Dortmund, Germany 29/10/1976 (Mp4)
250 MB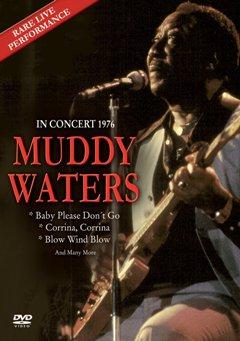 01. Intro & After Hours
02. Soon Forgotten
03. Howlin' Wolf Blues
04. Hoochie Coochie Man
05. Blow Wind Blow
06. Can't Get No Grindin'
07. Long Distance Call
08. Got My Mojo Workin'
09. Got My Mojo Workin' (First Encore)
10. Theme
11. Got My Mojo Workin' (Second Encore)

[Line-up:]
Muddy Waters: Vocals, Guitar
Luther Johnson: Guitar
Bob Margolin: Guitar
Jerry Portnoy: Harmonica
Pinetop Perkins: Piano
Calvin Jones: Bass
Willie Smith: Drums
Guest: Junior Wells: Vocals, Harmonica	

Excellent pro-shot performance of the Muddy Waters Blues Band at the Blues & Jazz Festival, Westfalenhalle, Dortmund, West Germany, on 29 October 1976. Sound and picture quality is flawless (although Muddy's guitar seems to be turned off at times, despite him playing it). The band looks all spruced up for a 1950s show in old men's clothes (and why not?), but they still look great! --- rockpeaks.com
download:
uploaded yandex 4shared mediafire mega solidfiles zalivalka cloudmailru filecloudio oboom
Last Updated (Thursday, 09 October 2014 08:40)