Led Zeppelin (2)
Led Zeppelin
1. Royal Albert Hall London. January 9, 1970 (Mp4)
340 MB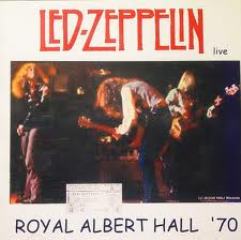 Setlist:
00:27  We're Gonna Groove (James A. Bethea, Ben E. King)
03:40  I Can't Quit You Baby (Willie Dixon)
10:36  Dazed and Confused (Jimmy Page)
26:09  White Summer (Page)
38:32  What Is and What Should Never Be (Page, Robert Plant)
43:11  How Many More Times (John Bonham, John Paul Jones, Page)
1:03:28  Moby Dick (Bonham, Jones, Page)
1:18:49  Whole Lotta Love (Bonham, Dixon, Jones, Page, Plant)
1:25:13  Communication Breakdown (Bonham, Jones, Page)
1:29:29  C'mon Everybody (Jerry Capehart, Eddie Cochran)
1:32:00  Somethin' Else (Bob Cochran, Sharon Sheeley)
1:34:10  Bring It On Home (Bonham, Dixon, Jones, Page, Plant)

Led Zeppelin:
- Robert Plant - Lead Vocals
- Jimmy Page - Back Vocals, Guitar
- John Bonham - Percussion, Drums
- John Paul Jones - Bass

On January 9, 1970, less than three months after the release of Led Zeppelin II, the band played the historic Royal Albert Hall on the third night of an eight-show UK tour. By all accounts it was a high-energy show. When the concert was over, Nick Logan of the New Music Express wrote:
I spoke to Jimmy Page after the show and he confessed that the whole band had suffered extreme nerves beforehand, mainly because people like John Lennon, Eric Clapton and Jeff Beck had requested tickets. "But it was just like it was at the Albert Hall in the summer," said Jimmy, "with everyone dancing around the stage. It was a great feeling. What could be better than having everyone clapping and shouting along? It's indescribable; but it just makes you feel that everything is worthwhile.
You can read Logan's review of the show, along with other press reports, at LedZeppelin.com. The concert was filmed by Peter Whitehead and Stanley Dorfman. But the band was unhappy with the quality of the footage, and it was put away until the release of the two-disc Led Zeppelin DVD in 2003. The film (above) captures the powerful early phase of the band's career.— openculture.com
download: mega 4shared 1fichier yandex anonfiles mixturecloud
2. Live At London's O2 Arena 2007 (Mp4)
570 MB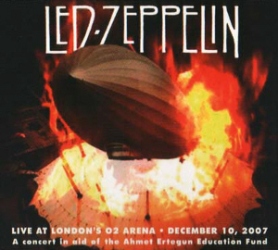 00:50 Good Times Bad Times
03:57 Ramble On
09:42 Black Dog
15:48 In My Time Of Dying
27:50 For Your Life
34:22 Trampled Under Foot
41:22 Nobody's Fault But Mine
49:05 No Quarter
58:40 Since I've Been Loving You
01:06:30 Dazed And Confused
01:19:16 Stairway To Heaven
01:28:05 The Song Remains The Same
01:35:10 Misty Mountain Hop
01:40:55 Kashmir
01:51:12 Whole Lotta Love
01:59:50 Rock And Roll

O2 Arena, London, England - December 10th, 2007

One of a kind rarity, from possibly the last ever Led Zeppelin Concert: Jimmy Page, Robert Plant, John Paul Jones and Jason Bonham signed drum skin, donated to John Bonham's sister, Deborah, for her charity.
download:  yandex 4shared 1fichier mega mixtrurecloud
Last Updated (Sunday, 26 May 2013 12:24)