Charles Mingus (1)
Charles Mingus
1. Live in Europe 1964 (Mp4)
430 MB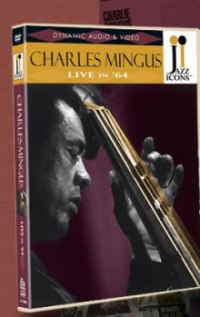 Live in Belgium 1964
00:00-00:45 Intro
00:46-05:33 So Long Eric
05:35-11:20 Peggy's Blue Skylight
11:23-32:03 Meditations On Integration.(Eric Dolphy on Bass Clarinet and Flute)

Live in Norway 1964
32:30-54:46 So Long Eric
56:30-1:11:40 Orange Was The Colour Of Her Dress,Then Blue Silk
1:13:53-1:16:20 Parkeriana
1:16:22-1:29:05 Take The "A" Train(Eric Dolphy on Bass Clarinet)

Live in Sweden in 1964
1:30:05-1:33:55 So Long Eric
1:34:02-1:52:35 Meditations On Integration (Eric Dolphy on Flute and Bass Clarinet)
1:52:40- 1:59:50 So Long Eric.

Line-up
Charles Mingus - bass;
Eric Dolphy - alto sax,flute and bass clarinet;
Jaki Byard - piano;
Johnny Coles - trumpet;
Clifford Jordan - tenor sax;
Dannie Richmond - drums.

Perhaps even more than Ellington, Mingus embraced all of life—and death. And this video captures many—but not all—of those emotional states and nuances which defy anthologising. From the certifiable masterpiece, "Meditations On Integration", to the 12-bar theme of "So Long Eric", Mingus demands of himself and his musicians the highest artistic attainment.
Because this DVD presents several versions of Mingus's 1964 concert repertoire, we not only hear, but see how Mingus works with his musicians—presenting them with unexpected challenges and, in return, dealing with the unexpected challenge of having to continue his series of concerts without his trumpeter, Johnny Coles, who was rushed to the hospital in Paris in mid-performance. The concerts continued—including performances of "Meditations On Integration"—with pianist Jacki Byard valiantly playing the trumpet parts on the piano. With Mingus, everything is part of the music—be it dealing with his bass sliding across the floor or rehearsing in public.
So perhaps an overview of Mingus's greatness can be served by this DVD—if not an anthology, then certainly a compelling document that captures a portion of his art. --- Andrew Homzy, jazzicons.com/ji2_mingus.html
download: uploaded yandex 4shared mediafire solidfiles zalivalka cloud.mail.ru filecloudio anonfiles oboom
Last Updated (Wednesday, 13 August 2014 19:57)