Evanescence (2)
Evanescence (2)
1. Rock Am Ring 2007 (Flv)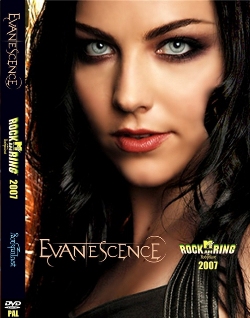 0:00 (weight of the world) 
05:27 (sweet sacrifice)
09:14 (going under) 
12:57 (only one) 
17:45 (cloud nine) 
22:35 (lithium) 
26:36 (haunted) 
29:51(tourniquet) 
33:45 (call me when you're sober)
37:37 (imaginary) 
41:52 (bring me to life) 
45:40 (whisper) 
50:45 (all that i'm living for) 
54:56.(lacrymosa) 
59:33.(my immortal) 
1:04:20. (your star)

Band:   
 Amy Lee – lead vocals, keyboards, harp 
 Terry Balsamo – lead guitar 
 Troy McLawhorn – rhythm guitar 
 Tim McCord – bass 
 Will Hunt – drums 

The Rock am Ring (Rock at the Ring) and Rock im Park (Rock in the Park) festivals are two simultaneous rock music festivals held annually in Germany. While Rock am Ring takes place at the Nürburgring in the west of Germany, Rock im Park takes place around the Frankenstadion in Nuremberg, in the south of Germany.
Both festivals are usually regarded as one event with a mostly identical lineup for both festivals. All artists perform one day at Nürburgring and another day in Nuremberg during the three day event. There have been minor exceptions in the past years where an artist will be announced for one of the festivals only.
The 2007 festival was used in a science experiment to test the effects of large bodies of people simultaneously jumping. The experiment data was used to calculate the result if the entire Chinese population were to jump in unison. The experiment concluded no significant results would come from the theoretical event.
download (mp4 @1743 MB):
2. Rock in Rio 2011 (Flv)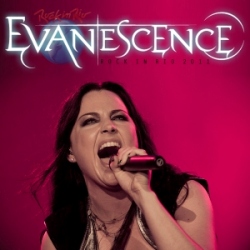 01. What You Want 
02. Going Under 
03. The Other Side
04. Weight of the World 
05. Made of Stone 
06. My Immortal 
07. My Heart Is Broken 
08. Your Star 
09. Sick 
10. The Change 
11. Call Me When You're Sober 
12. Imaginary 
13. Bring Me To Life

Line-Up: 
   Amy Lee – vocals, keyboards
   Terry Balsamo – lead guitar
   Troy McLawhorn – guitar
   Tim McCord – bass
   Will Hunt – drums

Rock in Rio is a series of music festivals held in three cities: Rio de Janeiro in Brazil, Lisbon in Portugal and Madrid in Spain. Four incarnations of the festival were in Rio de Janeiro, in 1985, 1991, 2001 and 2011, four in Lisbon, in 2004, 2006, 2008 and 2010, and two in Madrid in 2008 and 2010. The shows were organized by Brazilian entrepreneur Roberto Medina. In 2011, Rock in Rio returned to its original location, Rio de Janeiro, with a new line-up of singers and groups.
download (mp4 @739 MB):
Last Updated (Sunday, 25 February 2018 09:51)