Dave Hole - Rough Diamond (2007)
Dave Hole - Rough Diamond (2007)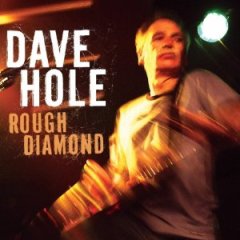 01. Rough Diamond Child
02. Can't Stop Loving You
03. Vintage Wine
04. Yours For a Song
05. White Trash Girl
06. Since I Met You Baby
07. I'll Get To You
08. Something Inside Of Me
09. Rambling On My Mind		play
10. Think It Over		play
11. I'm a King Bee

Personnel: 
Dave Hole (vocals, guitar); 
Dave Hole; Bob Patient, Bob Patient (keyboards); 
Roy Daniel (bass instrument); 
Ric Eastman, Ric Eastman (drums).

After seven house-rocking albums for Alligator, Dave Hole moves to the Blind Pig label--America's other established blues indie--for this solid, if somewhat predictable, release. In certain respects, the journeyman Australian slide guitarist is comparable to stalwarts such as George Thorogood, since his discs are nearly interchangeable yet none disappoint. Both artists also rely heavily on well-chosen covers. The slide demon taps into tracks from obvious inspirations such as Elmore James, Slim Harpo, and Robert Johnson, along with rearranged tunes written by the far less obvious likes of Willy Deville ("White Trash Girl"), Ivory Joe Hunter ("Since I Met You Baby"), and even Buddy Holly ("Think It Over"). But Hole's originals are plenty sturdy, as demonstrated by the opening riff-rocker "Rough Diamond Child" and the atypically tender ballad "Yours for a Song." Still, it's the sizzling solos that drive these tunes, and Hole's scorching tone--something like a mix of James and Rory Gallagher--torches everything it touches. He makes the guitar sing, howl, moan, or cry depending on the mood, but never lets his molten leads overwhelm the songs. The album-closing version of "I'm a King Bee" stings like the titular bug as Hole buzzes and burns through a showcase that shifts from grinding to gentle and back. The no-frills, three-piece backing band provides able accompaniment--that is, they stay out of the way--as Hole's passionate playing proves that the blues can be powerful and potent, even from a continent away. --Hal Horowitz, Editorial Reviews
Last Updated (Monday, 16 July 2012 22:23)