Blind Willie McTell & Curley Weaver - The Postwar Recordings 1949-1950 (2008)
Blind Willie McTell & Curley Weaver - The Postwar Recordings 1949-1950 (2008)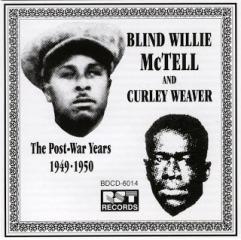 Curley Weaver with Blind Willie McTell
01. My Baby's Gone
02. Ticket Agent

Blind Willie McTell and Curley Weaver
03. Don't Forget (It)
04. A To Z Blues
05. Good Little Thing
06. You Can't Get Stuff No More
07. Love Changin' Blues

Blind Willie McTell
08. Savannah Mama
09. Talkin' To You Mama
10. East St. Louis

Blind Willie McTell and Curley Weaver
11. Wee Midnight Hours

Curley Weaver with Blind Willie McTell
12. She Don't Treat Me Good No More
13. Brownskin Woman
14. I Keep On Drinking

Blind Willie McTell and Curley Weaver
15. Pal Of Mine (Take 1)
16. Pal Of Mine (Take 2)
17. Honey It Must Be Love

Blind Willie McTell
18. Sending Up My Timber (Take 1)

Blind Willie McTell and Curley Weaver
19. Sending Up My Timber (Take 2)
20. Lord Have Mercy If You Please
21. Trying To Get Home (Climbing High Montains)

Blind Willie McTell
22. It's My Desire
23. Hide Me In Thy Bosom

Curley Weaver
24. Some Rainy Day
25. Trixie

Blind Willie McTell – twelve-string guitar, vocals
Curley Weaver – guitar, vocals

This disc presents the Curley Weaver session(s) for Sittin' in With of late 1949 or early 1950 and the McTell-Weaver session for Regal in 1950. Their voices are a bit worn from over two decades of daily performing and travel under not always the best of conditions, but their talents are otherwise undiminished. Like Billie Holiday's singing in her final years, the effect is still quite moving. Weaver's Sittin' in With tracks appear to represent the core of his repertoire and show him deeply embedded in the Georgia blues tradition, with a particular debt to McTell. Two of the tracks have a second guitarist, who plays a six-stringed instrument and appears not to have been McTell. My Baby's Gone is derived ultimately from Walter Davis's 1930 M. & O. Blues and fellow Georgia artist Bumble Bee Slim's 1932 B and O Blues with some further influence of McTell's 1933 B and O Blues No. 2. Ticket Agent is based on the piece that McTell recorded in variant form as Talkin' to Myself (1930), Searching the Desert for the Blues (1932), Lord, Send Me an Angel (1933), Ticket Agent Blues (1935), and Talking to You Mama (1950). Weaver had recorded a version of Some Rainy Day already in 1930 as a member of the Georgia Cotton Pickers and in 1933 under his own name. McTell recorded a version in 1935 and earlier played guitar on a version by Ruby Glaze (probably Ruth Willis) in 1932. Weaver's performance here is closest to his own 1933 recording. The oddly titled Trixie, performed in ragtime style is actually a version of Tricks Ain't Walking No More, a piece Weaver had recorded in 1935. The phrase, a pimp's and prostitute's term for slow business, is carved on Weaver's tombstone! The song is older, however.
Contrary to some published reports, McTell and Weaver both play guitars on all of the Regal recordings except two takes of a slow gospel song. McTell is the dominant vocalist. His secular material is a typically eclectic mix of new versions of blues he had recorded earlier, adaptations of blues hits by other artists, and pop standards. Of his own material, the hokum styled, Good Little Thing was first recorded in 1933, although it appears to have been inspired by Tampa Red's 1930 It's a Pretty Little Thing. Love Changin' Blues and Savannah Mama, with both guitarists playing in slide style, are versions of pieces McTell had recorded in 1929 and 1933, and they hold up very well in comparison to the originals. Talkin' to You Mama is McTell's final version of the piece that started out in 1930 as Talkin' to Myself. East St. Louis, first recorded by McTell in 1933, is given a much jauntier treatment here, with several new verses. The treatment is not especially appropriate to the song's rather serious lyrics, but McTell carries it off, adding some lovely falsetto touches.
Of McTell's pieces derived from recordings by other artists, Don't Forget It is based on a 1939 Tampa Red record, but McTell and Weaver give it an almost proto-rockabilly treatment worthy of the Everly Brothers. It was a strong start to their session, proving that there were no flies on the Pig 'n' Whistle Band. If Regal had released this track, it might have been the elusive hit that McTell had sought for his entire career. The politically incorrect A to Z Blues was a piece McTell would record again in 1956, but it goes back to a 1924 record by Butterbeans and Susie, who were frequent performers in Atlanta's 81 Theatre. Most of McTell's verses are new.
Curley Weaver's four blues are a similar mixture of original and derivative material. Wee Midnight Hours, with McTell sounding rather hoarse on the high harmony part, is based on Leroy Carr's 1932 "Midnight Hour Blues." It's a sentimental piece that the white folks would have liked, but the final graveyard stanza gives it an ominous new meaning. She Don't Treat Me Good No More appears to be a compilation by Weaver from various traditional lyrics, including some he recorded in his 1935 Early Morning Blues and that Buddy Moss recorded in 1933 on 'Next Door Man. Brownskin Women, with a tune similar to Wee Midnight Hours, is probably a Weaver original, while I Keep On Drinking is derived from a 1935 Bumble Bee Slim recording.
In this session Blind Willie McTell made his first commercial recordings of older popular songs. He probably had a substantial repertoire of such numbers that he performed by request at the Pig'n Whistle and the Blue Lantern. Pal of Mine was a pop hit of 1921, although McTell associated it with World War One when he recorded it again in 1956. Honey It Must Be Love is a piece he had performed in a 1940 documentary recording session for John A. Lomax, and he would record it again in 1956.
The fact that McTell recorded seven spiritual tunes is indicative of his turn toward religion in his late years. Lord Have Mercy If You Please is a tune that he and Weaver had recorded in 1933. Trying to Get Home (Climbing High Mountains), with its impassioned singing and Weaver contributing a harmony part, is a piece that McTell had recorded solo in 1940, as is River Jordan, which McTell also recorded for Atlantic. He played slide guitar on the earlier recordings. The remaining four religious songs presented here are gospel compositions of the 1930s that were widely recorded in the postwar years. How about You was published and recorded in 1932 by Thomas A. Dorsey, a relative of McTell's. It's My Desire was published in 1937 by Dorsey, and Hide Me in Thy Bosom was copyrighted by Dorsey in 1939 but had already been recorded by Elder Beck in 1937. McTell's performance appears to be influenced by Sister Rosetta Tharpe's 1938 recording of the tune under the title Rock Me. Sending up My Timber was published by Theodore R. Frye in 1939. These four songs were probably ones that McTell had sung with a quartet or glee club. They would have been enhanced with more vocal support, such as the nice falsetto humming that Weaver contributes on the second take of Sending Up My Timber. With recordings such as these, McTell was indeed preparing himself for a better home and a permanent place in the history of folk and popular music. --- document-records.com
download (mp3 @320 kbs):
Last Updated (Tuesday, 08 September 2020 09:42)