Big Mama Thornton - 30 Most Slow Blues (2017)
Big Mama Thornton - 30 Most Slow Blues (2017)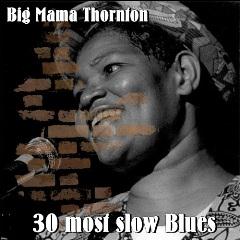 01. Big Mama's Blues (My Love)
02. Hound Dog
03. I'm Feeling Alright
04. Rolling Stone (Muddy Waters)
05. Gonna Leave You
06. The Place
07. Mr. Cool
08. Big Mama's New Love
09. Everything Gonna Be Alright
10. Private Number
11. Sweet Little Angel
12. Big Mama Swings
13. Big Mama's Bumble Bee Blues
14. Sassy Mama
15. Your Love Is Where It Ought to Be 
16. Happy Me
17. Watermelon Man
18. Funky Broadway
19. School Boy
20. I Just Can't Help Myself
21. Looking the World Over
22. That Lucky Old Sun
23. I Feel the Way I Feel
24. Guide Me Home
25. Session Blues
26. Black Rat
27. Chauffeur Blues
28. Since I Fell for You
29. Wade in the Water
30. The Fish 

Big Mama Thornton was a blues singer whose songs, including "Hound Dog" and "Ball and Chain," influenced the development of the rock and roll genre.
Blues legend Big Mama Thornton was born in Ariton, Alabama on December 11, 1926. Known for her powerful voice and sexually explicit lyrics, Thornton was the original performer of the hit song "Hound Dog," commonly associated with Elvis Presley, and "Ball and Chain," covered by Janis Joplin. She died of a heart attack in Los Angeles, California, on July 25, 1984.
Willie Mae Thornton was born in Ariton, Alabama, on December 11, 1926. She was exposed to music at a young age in the church where her father was a minister, and grew up singing in its choir, along with her mother and six siblings.
When Thornton was only 14 years old, her mother died, and she took a job in a saloon to help make ends meet at home. Music promoter Sammy Green soon discovered Thornton and recruited her to join his Atlanta-based Hot Harlem Revue. She remained with the group for seven years, contributing drum and harmonica parts to the show as well as vocals. In 1948, she settled in Houston, Texas, determined to advance her career as a singer.
Thornton succeeded in making professional inroads in Houston, and in 1951 she signed a contract with Peacock Records—her first recording deal. The following year, she recorded the song "Hound Dog," which would be her biggest hit. Authorship of the song is a matter of dispute, however. Both Johnny Otis, who produced the track, and the songwriting team of Jerry Leiber and Mike Stoller have claimed credit for the song. In 1953, "Hound Dog" reached number one on the R&B charts, making Thornton a star. The song was also a hit for Elvis Presley, whose 1956 cover targeted a young, white audience. Unlike Presley, however, Thornton received little compensation for her chart-topping performance.
Thornton continued to record for Peacock until 1957, touring with various performers, including Junior Parker. By the early 1960s, her fame had begun to ebb. Her follow-up hits with Peacock—including "I Smell a Rat" and "The Fish"—failed to take off as "Hound Dog" had. Thornton left Houston and settled in San Francisco, where she continued to perform locally. Popular interest in folk and blues music, beginning in the mid-1960s, helped revived Thornton's career, and in 1965 she toured Europe as part of the American Folk Blues Festival. She performed at the Monterey Jazz Festival in 1966 and 1968.
As with "Hound Dog," Thornton achieved greater recognition for her work when a white artist covered it. Janis Joplin's performance of Thornton's "Ball and Chain" at the 1967 Monterey Jazz Festival raised mainstream interest in Thornton. In 1969, she signed with Mercury Records and released her most commercially successful work. She continued to play the festival circuit, including two major performances at the Newport Jazz Festival.
Thornton was known for her tough demeanor as well as her stocky frame and powerful voice. She dressed in men's clothing and drank heavily throughout her adult life. Her drinking may have contributed to her death of a heart attack in Los Angeles, California, on July 25, 1984. She was 57 years old. Her funeral was attended by many blues greats and officiated by her old Peacock Records collaborator, Johnny Otis, who had since been ordained as a minister.
In 1984, Thornton was inducted into the Blues Hall of Fame. Her song "Ball and Chain" appears in the Rock and Roll Hall of Fame list of "500 Songs that Shaped Rock and Roll." ---biography.com
download (mp3 @320 kbs):