Big Joe Turner - Sun Risin´ Blues (2002)
Big Joe Turner - Sun Risin´ Blues (2002)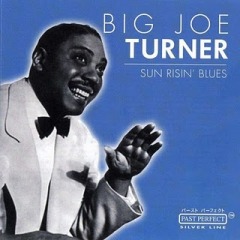 01. Roll 'em Pete 
02. Goin' Away Blues 
03. Cherry Red 
04. It's all Right Baby 
05. Careless Love 
06. Piney Brown Blues 
07. Blues on Central Avenue 
08. Sun Risin' Blues 			play
09. I'm a Lovin' Man 
10. My Gal's a Jockey 
11. Sally Zu-Zazz-Blues 
12. New Oo-Wee Baby Blues (Wee Baby Blues) 
13. Hollywood Bed (Cherry Red Blues) 
14. Radar Blues 
15. Tell My Pretty Baby 
16. Wine-O-Baby Boogie 
17. Jumpin' at the Jubilee 
18. Still in the Dark 
19. Chains of Love 
20. The Chill Is On 			play

Big Joe Turner (born Joseph Vernon Turner Jr., May 18, 1911 – November 24, 1985) was an American blues shouter from Kansas City, Missouri. According to the songwriter Doc Pomus, "Rock and roll would have never happened without him." Although he came to his greatest fame in the 1950s with his pioneering rock and roll recordings, particularly "Shake, Rattle and Roll", Turner's career as a performer stretched from the 1920s into the 1980s.
It is a mark of his dominance as a singer that he won the Esquire magazine award for male vocalist in 1945, the Melody Maker award for best 'new' vocalist in 1956, and the British Jazz Journal award as top male singer in 1965. In 1977, Turner recorded "I'm Gonna Sit Right Down and Write Myself a Letter" for Spivey Records, featuring Lloyd Glenn on piano. Turner's career stretched from the bar rooms of Kansas City in the 1920s (at the age of twelve when he performed with a pencilled moustache and his father's hat), on to the European jazz music festivals of the 1980s.
In 1983, only two years before his death, Turner was inducted into the Blues Hall of Fame. The same year saw the release on Mute Records of Blues Train, an album which paired Turner with Roomful of Blues. He died in Inglewood, California in November 1985, at the age of 74 of a heart attack, having suffered the earlier effects of arthritis, a stroke and diabetes. Big Joe Turner was posthumously inducted into the Rock and Roll Hall of Fame in 1987.
The late The New York Times music critic Robert Palmer, said: "...his voice, pushing like a Count Basie solo, rich and grainy as a section of saxophones, which dominated the room with the sheer sumptuousness of its sound." In announcing Turner's death in their December 1985 edition, the British music magazine, NME, described Turner as "the grandfather of rock and roll."
Songwriter Dave Alvin wrote a song about an evening that he spent with Turner titled "Boss Of The Blues". It was on his 2009 release, Dave Alvin & The Guilty Women. Alvin discussed the song in Issue 59 of The Blasters Newsletter.
download:  ziddu 4shared hostuje
Last Updated (Friday, 06 September 2013 09:39)