Big Joe Turner & Roomful of Blues - Blues Train (1997)
Big Joe Turner & Roomful of Blues - Blues Train (1997)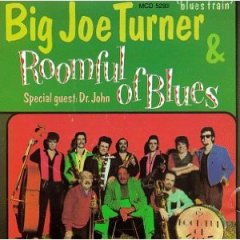 1. Crawdad Hole 
2. Red Sails In The Sunset 
3. Cocka-Doodle-Doo 
4. Jumpin' For Joe 
5. I Want A Little Girl 
6. Blues Train 
7. I Know You Love Me 
8. Last Night 
9. I Love The Way (My Baby Sings The Blues)

Personnel: 
Joe Turner (vocals); 
Eddie "Cleanhead" Vinson (vocals, alto saxophone); 
Dr. John (piano). 
Roomful Of Blues: 
Ronnie Earl Horvath (guitar); 
Rich Lataille (alto saxophone); 
Greg Piccolo (tenor saxophone); 
Doug James (baritone saxophone); 
Bob Enos (trumpet); 
Porky Cohen (trombone); 
Al Copley (piano); 
Jimmy Wimpfheimer (bass); 
Preston Hubbard (acoustic & electric bass); 
John Rossi (drums). 

In their early days, Roomful of Blues recorded some seminal LPs for the Muse label, which were bought by 32 Jazz, and two of them are available on this two-disc set. Blues Train with Big Joe Turner and Eddie "Cleanhead" Vinson & Roomful of Blues are the recordings included, and they offer some of the very best, and certainly seminal, early-period work of the Rhode Island-based horn-fired blues/jazz band. Dr. John also helps out on the first recording, which features Turner's signature takes on "Crawdad Hole" and "I Want a Little Girl," while the sessions with alto saxophonist/vocalist Vinson serve up evergreens "He Was a Friend of Mine" and "Past Sixty Blues," among many others. This one is also out of print, but will surely come back. The music is too keen, vital, and precious to be off the market. Find it as best you can. --- Michael G. Nastos, Rovi
download:   4shared gett hostuje
Last Updated (Friday, 06 September 2013 09:42)