T-Bone Walker – Stormy Monday Blues (1967)
T-Bone Walker – Stormy Monday Blues (1967)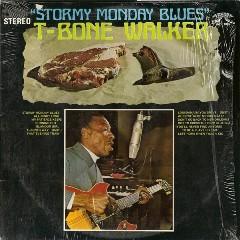 1 Stormy Monday Blues 	2:50 	
2 All Night Long... 	2:57 	
3 My Patience Keeps Running Out 	2:23 	
4 Glamour Girl 	2:44 	
5 T-Bone's Way 	4:18 	
6 That Evening Train 	3:04 	
7 Louisiana Bayou Drive 	3:11 	
8 When We Were Schoolmates 	3:26 	
9 Don't Go Back To New Orleans 	1:19 	
10 Go To Cross The Deep Blue Sea 	1:49 	
11 (You'll Never Find Anyone) To Be A Slave Like Me 	4:21 	
12 Left Home When I Was A Kid 	3:12 	

Personnel: 
Aaron T-Bone Walker - vocals, guitar; 
Earl Palmer – drums;
Johnny Copeland – guitar;
Willard Burton – piano;
Jimmy Jones – bass.

Walker held the guitar differently — perpendicular to his body and parallel with the stage floor. He also played it behind his head long before Jimi Hendrix took that stunt mainstream. That wasn't the only Walker influence on rock 'n' roll.
"Chuck Berry just took T-Bone's style and put it to a different beat," says Robillard. "And a lot of the technique and the little T-Bone phrases that define his style, Chuck Berry, when he rearranged the beat, they became rock 'n roll guitar licks. So in essence, T-Bone was not only the first electric blues guitar player, but he was the first electric rock 'n roll guitar player, really."
But it was Walker's "Stormy Monday" blues that became his signature. Robillard says it's a different kind of blues.
"The guitar chord line, it's a little guitar ninth chord figure. That was a unique thing and it became T-Bone's signature. And that chord line seems to have grabbed everybody because everybody plays it with that line in it. And it's almost like a law, that you have to, when you play 'Stormy Monday.'"
T-Bone Walker not only inspired Robillard and B. B. King, but also Freddie and Albert King, Eric Clapton, Duane Allman and Stevie Ray Vaughan. Like B. B. King, Walker was a living link to pre-war blues for the younger generation of players. Walker continued performing almost to the end. But a lifetime of ill health and drinking led to a stroke in 1974. Aaron T-Bone Walker died on March 16, 1975. --- npr.org
download:   uploaded anonfiles mega 4shared mixturecloud yandex mediafire ziddu
Last Updated (Sunday, 07 July 2013 22:03)