Tedeschi Trucks Band - Everybody's Talkin' (2012)
Tedeschi Trucks Band - Everybody's Talkin' (2012)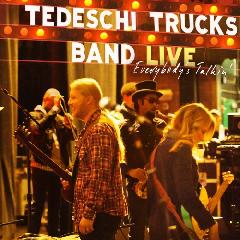 CD1:
01 – Everybody's Talkin'
02 – Midnight In Harlem (Swamp Raga Intro With Little Martha)
03 – Learn How to Love
04 – Bound For Glory
05 – Rollin' and Tumblin'
06 – Nobody's Free
07 – Darling Be Home Soon

CD2:
01 – That Did It
02 – Uptight
03 – Love Has Something Else To Say (With Kissing My Love)
04 – Wade In The Winter

Personnel: 
Susan Tedeschi (vocals, guitar); 
Mike Mattison, Mark Rivers (vocals); 
Derek Trucks (guitar); 
Kebbi Williams (saxophone); 
Maurice Brown (trumpet); 
Kofi Burbridge (keyboards); 
J.J. Johnson , Tyler Greenwell (drums, percussion).

The Harvest Jazz and Blues crowd certainly weren't upset to learn that the Tedeschi Trucks Band will be returning this year. Since appearing two years ago at the Festival when the husband-wife duo had first put together the live group, its grown into a big deal, winning a Grammy this past year for the excellent Revelator album, and become a tour de force performing group, festival favourites everywhere. What began as a good way for the couple to spend more time with each other has become a major artistic statement in the duo's already stellar careers.
Susan Tedeschi is the lead singer in the group, Derek Trucks the lead guitar player, and then look it, it's an onslaught of sound, with the huge, 11-piece group featuring a full horn section, and the dynamic Burbridge brothers, Otell from the Allmans on bass, and Kofi on keys. The double-drummer Allman system is also borrowed, but this is a much more varied group. On this new live double-disc, you'll find tight songs, right up to 16-minute workouts. There's a tiny bit of jamminess (I just coined that), but mostly it's pretty structured even on the long workouts. Everybody gets a chance to shine, even Kofi moving out from the keyboard for a groovy and jazzy flute solo in Nobody's Free. The horns get to play lots, and it's certainly not a show-off time for Trucks, although he does give the crowd lots of strong solos to keep them happy.
Tedeschi moans, wails and gets smooth too. I do find the live show quite different from the studio album, which was a very soulful affair, showcasing their interest in Stax sounds. Live, they are a wilder bunch. There are those rich moments though, such as their cover of the Lovin' Spoonful favourite Darling Be Home Soon, which sees some nice cooing from the background singers in the band, lovely Isley Brothers harmonies, and the horn arrangement is beautiful. Other cover surprises are a radically-reworked and uptempo version of Everybody's Talkin', and a big workout on Stevie Wonder's Uptight. ---Bob Mersereau, cbc.ca
download:
Last Updated (Tuesday, 09 July 2013 21:36)