Stevie Ray Vaughan - Stubb's BBQ Lubbock TX (1978)
Stevie Ray Vaughan - Stubb's BBQ Lubbock TX (1978)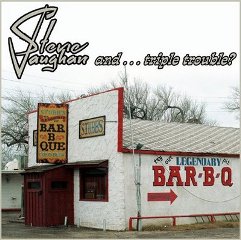 Disc 1

1. Last night
2. Natural born lover/Tell me why
3. All through the night
4. Ti Na Nee Na Nu
5. St. James Infirmary
6. Kansas City
7. I'm a good woman
8. Will my man be home tonight
9. Albert's Alley
10. A little thang
11. Green onions
12. One way out
13. Shake and rock and roll
14. You are my girl

Tracks 1-9 : Broadway 50/50 Club, San Antonio, TX 1978
Tracks 10-14 - Stubb's BBQ, Lubbock, TX 1977

Disc 2

1. Everyday I have the blues
2. Sweet little angel
3. I tried
4. Don't you lie to me
5. Texas flood
6. Dimples
7. A little thang
8. I go crazy
9. Shake and rock and roll
10. Baby, I don't know
11. Cold cold cold
12. Part time lover
13. Next time you see me
14. Well I done got over it
15. Stranded in St. Louis/Five long years

Disc 3

1. I tried
2. Don't you lie to me
3. You done lost your good thing now
4. I'm cryin'
5. Backstroke/Last night
6. Sun is shining
7. Roll roll roll
8. Honest I do
9. Lucille

Line-up: 
Stevie Ray Vaughan - guitar/vocals 
Lou Ann Barton - vocals
Mike Kindred - organ
W.C. Clark - bassguitar
Freddie Pharaoh - drums
Johnny Reno - saxophone


Live at Stubb's Barbecue, Lubbock, Texas - 02 DEC 1878 - soundboard.
SRV first met Stubb when he was in his late teens. He would regularly play at Stubb's Bar-B-Q joint in Lubbock. Stories abound about SRV regularly blowing his earnings, stranding himself in Lubbock. Stubb would always empty his cash register and give all that he had to SRV so the kid could get back home to Austin.
Stubb loved the blues. The next time you feel like some slow and low guitar, put on SRV's "Tin Pan Alley (aka Roughest Place In Town)". SRV learned to play this song by listening to James Reed's version on Stubb's jukebox.
download:   uploaded anonfiles mega mixterecloud yandex 4shared
Last Updated (Friday, 05 July 2013 21:53)