Stevie Ray Vaughan & Jeff Beck - The Fire Meets The Fury (1989)
Stevie Ray Vaughan & Jeff Beck - The Fire Meets The Fury (1989)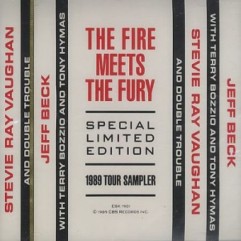 01- Stand on it - Beck.
02- Tightrope - SRV.
03- Going down - Beck.
04- Pride and joy - SRV.
05- Guitar shop - Beck.
06- The house is rockin' - SRV.
07- Blue wind - Beck.
08- Couldn't stand the weather - SRV.
09- Savoy - Beck.
10- Crossfire - SRV.
11- Freeway jam - Beck.
12- Look at little sister - SRV.
13- Superstition - Beck, Bogart, Appice.
14- Superstition - SRV.
15- Beck's bolero - Beck.
16- Willie the wimp - SRV.

Issued as a promotional compact disc by CBS Records, for the Jeff Beck and Stevie Ray Vaughan 1989 tour, The Fire Meets The Fury lays out a total of sixteen cuts from the dynamic six string bending duo. Each legendary guitarist is showcased via eight songs, which alternate between the pair.
Touring as a three piece, along with drummer Terry Bozzio and bassist Tony Hymas, Beck was out on the road in support of his Guitar Shop recording. The souped-up title track from the '89 release is included on the promo CD, along with "Stand On It" and "Savoy". In addition, retro Beck tracks, dating back to his days fronting The Jeff Beck Group ("Going Down"), fill out the collection, with "Beck's Bolero", "Freeway Jam", and "Blue Wind", adding depth to the release.
Stevie Ray and his tight Double Trouble backing band counter Beck's fretboard prowess with "Tightrope", "Pride and Joy", the raucous "The House is Rockin'", the bluesy "Couldn't Stand the Weather" and "Crossfire", standing out. Like Beck, Vaughan's cover of "Superstition" is included on the limited edition tour sampler. ---rateyourmusic.com
download:    yandex mediafire uloz.to gett my-files.ru
Last Updated (Sunday, 29 April 2018 12:42)