Stevie Ray Vaughan - The Sky Is Crying (1991)
Stevie Ray Vaughan - The Sky Is Crying (1991)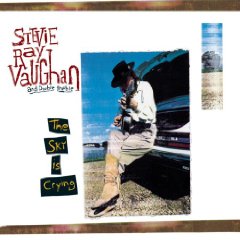 1. Boot Hill
2. The Sky Is Crying
3. Empty Arms
4. Little Wing
5. Wham
6. May I Have A Talk With You
7. Close To You
8. Chitlins Con Carne
9. So Excited
10. Life By The Drop

Personnel: 
Stevie Ray Vaughan (vocals, guitar); 
Reese Wynans (keyboards); 
Tommy Shannon (bass guitar); 
Chris Layton (drums). 

The Sky Is Crying was released after SRV's fatal helicopter crash that took his life. It is comprised of unreleased tracks throughout his career. He covers Lonnie Mack's "Wham!" and Jimi Hendrix' famous "Little Wing". Both excellent covers, and other originals on this album. Stevie Ray Vaughan modeled his guitar playing after one of his favorite guitar players, Jimi Hendrix. Especially if you play guitar, you easily see the resemblence between the two. SRV also became very known after his cover of Hendrix' famous "Voodoo Child". SRV rose to stardom, and then tragically sunk due to his fatal death in 1990. Stevie will be remembered for time to come, and is one of the most respected guitarists of all time.
Overall, this album is great. It's a shame SRV had to die, but some things are meant to happen. He shows excellent lead work and even goes acoustic on this album. If you don't have it, you're missing out. His cover of Little Wing is enough to convince me to definately check it out. If you haven't already, get "Texas Flood" aswell. ---sputnikmusic.com
download:   uploaded anonfiles mega gett 4shared mixturecloud yandex mediafire ziddu
Last Updated (Friday, 05 July 2013 21:09)