Rod Piazza - Vintage Live 1975 (1998)
Rod Piazza - Vintage Live 1975 (1998)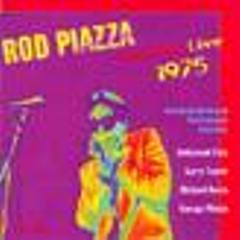 01. Oh Baby 
02. Key to the Highway 
03. Mellow Down Easy 
04. Standing Around Crying 
05. I Had My Fun 
06. Rocking Daddy 
07. Mean Old World 
08. Take a Walk With Me 
09. My Babe 
10. Third Degree

Personnel: 
Rod Piazza (vocals, harmonica); 
Mike "Hollywood Fats" Mann, George Phelps (guitar); 
Larry Taylor (bass);
Richard Innes (drums).

This medium to lo-fi live club recording (location and exact date unspecified) finds Piazza and a young, enthusiastic band playing it by the record collection as they mine their way through ten Chicago blues classics. With Hollywood Fats on guitar and former Canned Heat bassman Larry Taylor, the licks are suitably retro and blues-approved, as Piazza devotes over half the set to letter-perfect re-creations of Little Walter staples like "My Babe," "Oh Baby," "Key to the Highway," "Mellow Down Easy," "I Had My Fun," and "Mean Old World." Piazza extends the Walter approach to include like-minded versions of Muddy's "Standing Around Crying," "Take a Walk With Me," Eddie Boyd's "Third Degree," and Howlin' Wolf's "Rocking Daddy." What sounds still sounds pretty impressive (if somewhat derivative) some 20 years later must have seemed absolutely revelatory at the time. ---Cub Koda, Rovi
download:   uploaded anonfiles mega 4shared mixturecloud yandex mediafire ziddu
Last Updated (Thursday, 20 June 2013 20:09)