The Paul Butterfield Blues Band - East-West (1966)
The Paul Butterfield Blues Band - East-West (1966)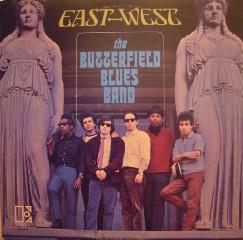 A1 	Walkin' Blues 	3:15
A2 	Get Out Of My Life, Woman 	3:13
A3 	I Got A Mind To Give Up Living 	4:57
A4 	All These Blues 	2:18
A5 	Work Song 	7:53
B1 	Mary, Mary 	2:48
B2 	Two Trains Running 	3:50
B3 	Never Say No 	2:57
B4 	East-West 	13:10

Bass – Jerome Arnold
Drums – Billy Davenport
Guitar – Elvin Bishop, Mike Bloomfield
Harmonica, Vocals – Paul Butterfield
Organ, Piano – Mark Naftalin
Vocals – Elvin Bishop (tracks: B3) 

The raw immediacy and tight instrumental attack of the Paul Butterfield Blues Band's self-titled debut album were startling and impressive in 1965, but the following year, the group significantly upped the ante with its second LP, East-West. The debut showed that Butterfield and his bandmates could cut tough, authentic blues (not a given for an integrated band during the era in which fans were still debating if a white boy could play the blues) with the energy of rock & roll, but East-West was a far more ambitious set, with the band showing an effective command of jazz, Indian raga, and garagey proto-psychedelia as well as razor-sharp electric blues. Butterfield was the frontman, and his harp work was fierce and potent, but the core of the band was the dueling guitar work of Mike Bloomfield and Elvin Bishop, especially Bloomfield's ferocious, acrobatic solos, while Mark Naftalin's keyboards added welcome washes of melodic color, and the rhythm section of bassist Jerome Arnold and drummer Billy Davenport were capable of both the rock-solid support of veteran blues players and the more flexible and artful pulse of a jazz combo, rising and relaxing with the dynamics of a performance. The Butterfield Blues Band sounded muscular and exciting on classic blues workouts like "Walkin' Blues," "Two Trains Running," and "I Got a Mind to Give Up Living," but the highlights came when the band pushed into new territory, such as the taut New Orleans proto-funk of "Get Out of My Life, Woman," the buzzy and mildly trippy "Mary, Mary," and especially two lengthy instrumental workouts, the free-flowing jazz of Nat Adderley's "Work Song" and the title track, a fiery mix of blues, psychedelia, Indian musical patterns, and several other stops in between, with Butterfield, Bloomfield, and Bishop blowing for all their worth. East-West would prove to be a pivotal album in the new blues-rock movement, and it was the Paul Butterfield Blues Band's greatest achievement; Bloomfield would be gone by the time they cut their next LP to form the Electric Flag, and as good as Bishop was, losing the thrust and parry between the two guitarists was a major blow. But East-West captures a great group in high flight as the bandmembers join together in something even more remarkable than their estimable skills as individuals would suggest, and its importance as a nexus point between rock, blues, jazz, and world music cannot be overestimated. ---Mark Deming, AllMusic Review
Lato 1966 roku przyniosło dwa albumy, które zdefiniowały muzykę bluesrockową. Najpierw, w lipcu, ukazał się "Blues Breakers" Johna Mayalla i Erica Claptona, który pokazał Europejczykom, że muzyka bluesowa, dotąd popularna głównie wśród Afroamerykanów, może być atrakcyjna również dla nich. Wystarczyło tylko połączyć ją z rockową energią. Zaledwie kilka tygodni później, już w sierpniu, ukazał się album "East-West" amerykańskiej grupy The Butterfield Blues Band, na którym zaprezentowano jak elastyczne mogą być ramy owego bluesrockowego stylu.
Korzenie zespołu sięgają początku lat 60., kiedy na Uniwersytecie w Chicago poznało się dwóch wielbicieli bluesa - Paul Butterfield i Elvin Bishop. Pierwszy śpiewał i grał na harmonijce, drugi na gitarze, więc szybko zaczęli wspólnie jamować. Kiedy, gdzieś w 1963 roku, zaoferowano im występy w jedynym z lokalnych klubów, duet postanowił zaprosić do współpracy sekcję rytmiczną wspomagającą w tamtym czasie Howlin' Wolfa - basistę Jerome'a Arnolda i perkusistę Sama Laya. Pierwszy występ okazał się sukcesem i kwartet postanowił nawiązać trwałą współpracę. Podczas jednego z kolejnych występów, wśród publiczności znalazł się początkujący producent Paul A. Rothchild (który wkrótce miał zyskać sławę, odkrywając m.in. grupę The Doors), który zaproponował muzykom kontrakt. Przekonał także grupę, aby przyjąć do składu świetnego gitarzystę Mike'a Bloomfielda, będąc pod wrażeniem jego okazjonalnego jamu z Paulem Butterfieldem. Wkrótce zespół poszerzył się jeszcze o klawiszowca Marka Naftalina. W tym składzie zarejestrowany został debiutancki album grupy, "The Paul Butterfield Blues Band", wydany pod koniec 1965 roku. Longplay składa się głównie z energetycznych przeróbek utworów chicagowskich bluesmanów, uzupełnionych nowymi kompozycjami w tym stylu.
Dopiero drugi album, "East-West" pokazał większą wszechstronność muzyków. Poniekąd wiązało się to z odejściem Sama Laya i przyjęciem na jego miejsce Billy'ego Davenporta - perkusisty zorientowanego bardziej na granie jazzu. Kolejna zmiana, to zwiększenie demokracji w zespole, wcześniej dominowanym przez Butterfielda. Podczas tworzenia tego albumu, pozostali muzycy mogli zaprezentować swoje pomysły, co przełożyło się na większą różnorodność. W rezultacie, obok rockowo zagranego bluesa (np. "Walkin' Blues" Roberta Johnsona, "Get Out of My Life Woman" Allena Toussainta, "Two Trains Running" Muddy'ego Watersa) i obowiązkowych bluesrockowych ballad (rewelacyjny "I Got a Mind to Give Up Living" i "Never Say No" - oba nieznanego autorstwa), znalazły się tu także utwory innego rodzaju. Jak chociażby "Mary, Mary", napisany dla grupy przez niejakiego Michaela Nesmitha (który później nagrał go ze swoją grupą The Monkees), będący właściwie utworem acidrockowym, ze sfuzzowanymi partiami gitar i bardzo chwytliwą melodią.
Z kolei dwa instrumentalne utwory, "Work Song" (z repertuaru Nata Adderleya) i "East-West" (autorstwa Bloomfielda i Nicka Gravenitesa), zdradzają silne wpływy jazzowe. Ten pierwszy to niemal ośmiominutowa improwizacja oparta na jazzowej grze sekcji rytmicznej, z rewelacyjnymi gitarowymi solówkami także o jazzowym charakterze, ale i rockowej ostrości, a także z bluesowymi popisami Butterfielda na harmonijce i organowymi solówkami Naftalina. Utwór tytułowy to z kolei 13-minutowy jam, inspirowany muzyką indyjską i twórczością Johna Coltrane'a. Sam pomysł narodził się w głowie Bloomfielda po całonocnych eksperymentach z LSD. Improwizacja opiera się na wyrazistym basowym motywie i transowej partii perkusji, które stanowią tło dla niesamowitych popisów pozostałych muzyków - przede wszystkim dla rewelacyjnych, orientalnie zabarwionych solówek gitarzystów (przypadkiem lub nie, momentami kojarzących się z "Eight Miles High" The Byrds), a także dla fantastycznych partii harmonijki. Niesamowite, jak wiele Paul Butterfield potrafił wydobyć z tak prostego instrumentu. "East-West" to jeden z najwspanialszych przykładów zarówno jazz rocka, jak i rocka psychodelicznego, jakie dane mi było słyszeć.
Jak już wspomniałem we wstępie, "East-West" to album pokazujący, że muzyka bluesrockowa nie musi ograniczać się do powielania utartych, bluesowych schematów. Że jest w niej miejsce także na eksperymenty z innymi stylami, które wcale nie muszą szkodzić spójności albumu, a mogą go bardzo ciekawie ubarwić. A akurat na tym longplayu właśnie te eksperymenty są najbardziej ekscytujące. Chociaż pozostałym utworom nie mogę nic zarzucić - to naprawdę dobrze zagrany blues rock, niczym nie ubiegający chociażby twórczości Johna Mayalla. Krótko podsumowując - "East-West" to jeden z najlepszych i najważniejszych albumów w historii i bluesa, i rocka. Wstyd nie znać. ---Paweł Pałasz, pablosreviews.blogspot.com
download (mp3 @320 kbs):
yandex mediafire ulozto gett bay files