Otis Spann – The Blues Never Die! (1964)
Otis Spann – The Blues Never Die! (1964)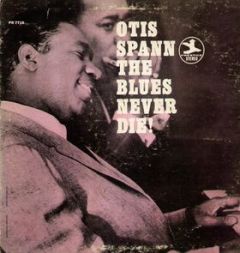 A1. The Blues Never Die 3:40  	play
A2. I Got a Feeling 2:560  
A3. One More Mile to Go 3:45  
A4. Feelin' Good 3:30  
A5. After a While 2:36  

B1. Dust My Broom 2:35  		play
B2. Straighten up, Baby 2:30   
B3. Come On 2:40  
B4. Must Have Been the Devil 2:40  
B5. Lightnin' 2:50  
B6. I'm Ready 3:05

Personnel:
Otis Spann– Piano, Vocals 
Muddy Waters, James Madison– Guitar
Milton Rector– Bass
S.P. Leary– Drums
James Cotton– Harmonica, Vocals

This album brings together slow, smoky numbers like "One More Mile To Go" and "After Awhile" with a nice rendition of Elmore James' muscular boogie "Dust My Broom", a funky "Come On", and a pretty tough version of Willie Dixon's "I'm Ready". Spann's darkly humorous "Must Have Been The Devil" is another highlight, as is the swaggering mid-tempo grind of "Straighten Up, Baby".
Otis Spann shares lead vocals with harpist (and occational bandmate) James Cotton, and they are backed by a tight band which includes drummer S.P. Leary, bassist Milton Rector, and guitarists James "Pee Wee" Madison and "Dirty Rivers" - an obvious pseudonym for Spann's, Madison's and Cotton's everyday employer Muddy Waters, who couldn't officially appear on a Prestige/Bluesville album. (Remember how Buddy Guy was once credited as "Friendly Chap" because he was under contract with Chess and couldn't legally record for Junior Wells' record company Delmark?)
This album is perhaps not quite as remarkable as prime cut Muddy Waters or Elmore James, but "The Blues Never Die" is nevertheless a highly professional, very enjoyable, and consistently rewarding blues record. Definitely recommended. ---Docendo Discimus. Amazon.com
Boasting fellow Chicago blues dynamo James Cotton on both harmonica and lead vocals, The Blues Never Die! is one of Otis Spann's most inspired albums. When this session was recorded for Prestige's Bluesville subsidiary in 1964, Spann was still best known for playing acoustic piano in Muddy Waters' band. But The Blues Never Die! (which Fantasy reissued on CD in 1990 on its Original Blues Classics imprint) shows that he was as great a leader as he was a sideman. From Willie Dixon's "I'm Ready" (a Chess gem Spann had played numerous times with Waters) and Elmore James' "Dust My Broom" to Cotton's spirited "Feelin' Good" and Spann's dark-humored "Must Have Been the Devil," Spann and Cotton enjoy a very strong rapport on this consistently rewarding date. ---Alex Henderson. All MusicGuide.
download: uploaded anonfiles yandex mega 4shared mixturecloud mediafire ziddu
Last Updated (Monday, 10 June 2013 15:49)