Memphis Slim & Willie Dixon - Aux Trois Mailletz-Jazz In Paris (1993)
Memphis Slim & Willie Dixon - Aux Trois Mailletz-Jazz In Paris (1993)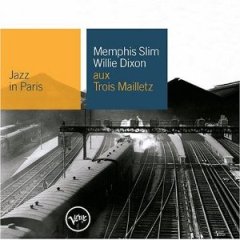 01. Rock Rolling The House 
02. Baby Please Come Home 
03. How Come You Do Me Like You Do
04. The Way She Loves A Man 
05. New Way To Love
06. African Hunch With A Boogie Beat
07. Shame Pretty Girls 
08. Baby-Baby-Baby
09. Do De Do	 
10. Cold Blooded 
11. Just You And I 
12. Pigalle Love	 
13. All By Myself

Personnel: 
Memphis Slim (vocals, piano); 
Willie Dixon (vocals, double bass); 
Philippe Combelle (drums).
Although this CD by pianist Memphis Slim and bassist Willie Dixon is marketed as a part of Verve's Jazz in Paris reissue series, it is, of course, a blues date, with a fair amount of boogie-woogie. The two veterans, who had worked together previously, are joined by drummer Phillipe Combelle during the two 1962 sessions recorded at Les Trois Mailletz, complete with a typically out of tune piano and a fair amount of noise from the audience at times. The pianist's gruff voice dominates a fair amount of the performances, although most of the songs are Dixon's. The bassist steals the show during the opener, "Rocking and Rolling the House," with a fine solo. In fact, the only standard not written by either man is a campy miniature take of Big Bill Broonzy's "All by Myself." Blues fans will want up to pick up this live recording by two legendary musicians. ---Ken Dryden, Rovi
download:   uploaded anonfiles 4shared mega yandex mixturecloud mediafire ziddu
Last Updated (Wednesday, 29 May 2013 23:41)