Memphis Slim - Rockin' The Blues (1981)
Memphis Slim - Rockin' The Blues (1981)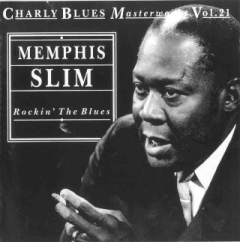 1. Gotta Find My Baby
2. The Comeback
3. Messin' Around
4. Sassy Mae
5. Lend Me Your Love
6. Guitar Cha Cha
7. Stroll On Little Girl
8. Rockin' The House
9. Wish Me Well
10. Blue And Lonesome
11. My Gal Keeps Me Crying
12. Slim's Blues
13. Steppin' Out
14. Mother Earth
15. What's The Matter
16. This Time I'm Through

Personnel: 
Memphis Slim (vocals); 
Matt "Guitar" Murphy (guitar); 
John Calvin (alto saxophone); 
Ernest Cotton (tenor saxophone); 
Billy Stepney (drums).
The most complete gathering of Slim's 1958-1959 Vee-Jay output available on disc (16 songs to the even dozen on the Gate of Horn domestic disc) and the best-sounding too. This is the crowning achievement in Memphis Slim's massive legacy -- he delivers his classics one right after another, backed by his unparalleled combo that was anchored by Matt "Guitar" Murphy's startlingly fresh solos. Along with the standbys -- "Messin' Around," "Mother Earth," "Wish Me Well" -- there's the catchy instrumental "Steppin' Out," later covered by Eric Clapton; the romping "What's the Matter," and a blistering "Rockin' the House" where the band nearly sails right out of the studio! ---Bill Dahl, Rovi
download:   uploaded anonfiles 4shared mega yandex mediafire mixturecloud ziddu
Last Updated (Wednesday, 29 May 2013 21:36)