Mark Ford & The Robben Ford Band (1990)
Mark Ford & The Robben Ford Band (1990)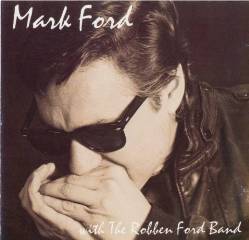 1	Mellow Down Easy			
2	Ain't Got Dough			
3	Heart-Breakin' Blues			
4	My Baby Didn't Come 
5	Up and Out 
6	On The Road Again 
7	Up from the Streets 
8	Fool For Love 
9	Live the Life I Love
10	Hot Cha Cha
11	Is It Makebelieve?

Personnel:
Mark Ford (vocals, harp); 
Robben Ford (guitar); 
Mark Ford (harmonica); 
Robben Ford; Roscoe Beck (bass guitar, 6-string bass); 
C. Roscoe Beck (6-string bass); 
Tom Brechtlein (drums).

No other harp player sounds like Mark Ford, period. Comparisons: faster than Popper, as inventive with harp as Jeff Beck is with guitar, as capable of melody and time signature magic as Dave Brubeck and as capable of smashing your eardrums as Ted Nugent. Yeah, you guessed it. I like this guy--and this is some of his best, most inventive material.
I use this collection of tunes to break my friends of all their preconceptions about what a 10 hole harp is and what it's capable of sounding like. If you love blues harp, or if you love jazz, or if you love balls to the wall flash rock'n'roll this album has some material you just ought not to miss hearing.
Be brave, buy this CD and then you can impress your friends with your discovery. My favorite tunes? The stunning remakes of Little Walter's *Mellow Down Easy*, and Canned Heats *On the Road Again*, Ain't Got Dough and...oh heck...it's hard to pick faves on this one. There isn't a bad tune on the thing. ---amazon.com
download:   uploaded yandex anonfiles mega 4shared mediafire ziddu mixturecloud