Ford Blues Band - A Tribute To Paul Butterfield (2001)
Ford Blues Band - A Tribute To Paul Butterfield (2001)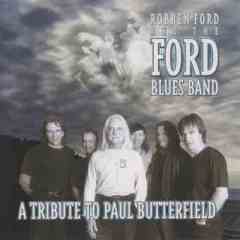 1. Screamin'
2. One More Heartache
3. Last Hopes Gone
4. Good Morning Little Schoolgirl
5. No Amount Of Loving
6. Mary Mary
7. Work Song
8. In My Own Dream
9. Buddy's Advice
10. All These Blues
11. Tollin' Bells
12. Everthing's Gonna Be Alright

Personnel:
Robben Ford (vocals, guitar); 
Volker Strifler (vocals, guitar); 
Mark Ford, Andy Just (vocals, harmonica); 
Dewayne Pate (bass); 
Patrick Ford (drums, background vocals). 
+
John Lee Sanders (flute, saxophone, background vocals); 
Mic Gillette (trumpet, trombone); 
Gabriel Ford, John R. Burr (keyboards); 
Garth Webber (background vocals). 

When Patrick Ford decided that he wanted to do a tribute album to Paul Butterfield, he called his family, Robben, Mark and Gabriel together with harpist Andy Just, Bassist Dewayne Pate and various other musicians and began sifting through Butterfields first six releases to find songs to cover. The 12 songs selected, some better known than others, are said to best demonstrate both the style and diversity of Butterfield and his band. I suppose to Butterfield fans that may well be a subject for debate. Some may ask, for example, where is "Born in Chicago" or "Two Trains Running".
Notwithstanding the eventual selection of songs, the Fords pull off what they set out to achieve. An original sounding CD that recalls Butterfield in his heyday and the Ford bands performance is nothing short of excellent. Listen to the harp playing in "Screamin" and "Everything's Gonna Be Alright", and the harp, guitar and piano solo's on "Work Song". They're enough to send chills down your spine and "Mary Mary" is dead on. If there is a short coming, it is, oddly enough, in one of the most covered blues numbers, "Good Morning Little School Girl". Perhaps it's been covered so many times that it has lost all sense of originality. Otherwise, it's a solid effort from a family that knows how to play the blues. ---deepbluereview, amazon.com
download:   uploaded yandex anonfiles mega 4shared mediafire ziddu