Lonnie Johnson - Mr. Johnson's Blues (2000)
Lonnie Johnson - Mr. Johnson's Blues (2000)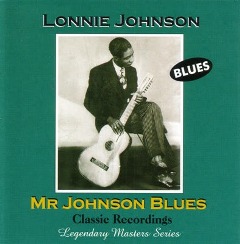 1. Mr. Johnson's Blues
2. Roamin' Rambler Blues
3. Guitar Blues
4. Winnie the Wailer
5. No More Troubles Now
6. There Is No Justice
7. Have to Change Keys (To Play These Blues)
8. Broken Heart That Never Smiles
9. Tin Can Alley Blues
10. Away Down in the Alley Blues
11. Stompin' Em Along Slow
12. Uncle Ned, Don't Use Your Head
13. Bull Frog Moan
14. Low Land Moan
15. Racketeer's Blues
16. South Bound Water
17. Blues in G
18. Sweet Potato Blues

In 1944 Bruce Cook went with his father to a concert sponsored by the Hot Club of Chicago, a program or traditional jazz in the old New Orleans style. The father was a serious jazzman who never made much money at it but played occasionally and practiced over an hour each day, running scales and jamming with records by Bix Beiderbecke, Red Nichols and Louis Armstrong. Ten-year-old Bruce had already found, at the bottom of the drawer, a small stack of records quite different from the ones his father listened to, ruder and more primitive, tunes from people like Tampa Red, Bessie Smith, Cow Cow Davenport. But this was Bruce's first encounter with a bluesman live. Almost thirty years later, in Listen to the Blues, Cook described it:
"His name was Lonnie Johnson and he was the real thing. ... I remember my own impression in listening to him was that it would be hard to imagine anybody playing better. There is a quality that the real virtuoso communicates, an added dimension to his playing, that makes it immediately and recognizably distinct from that of one who is merely proficient. Lonnie Johnson had it that day, and he may always have had it, for Pops Foster, though then hardly more than a boy, remebered him as "the only guy we had around New Orleans who could play jazz guitar. he was great on guitar. Django Reinhardt was a great jazz player like Johnson." And here he was, at fifty, playing deep rolls and treble runs that he extended with amazing subtlety, torturing out the last nuance of melody from all those simple blues chords.
But the blues is essentially a vocal art, and Lonnie Johnson was preeminently a blues singer. I remember his voice as hushed and rather insinuating in tone; he was a singer with a style that managed to say more than words alone might allow. He was a dapper man, light-complexioned, with a pencil mustache, and dressed in a careful and precise way that reminded me a little of my father. (I remember he kept his hat on as he played and sang, and that struck me as odd.) He was the very picture of the urban bluesman, and that was the image he projected as he sang – knowing, world-wise, a man who had no illusions but who still had pride in himself...
My father's attitude about all this was interesting. I remember asking him on the way home what he thought of Lonnie Johnson. he said he was a good guitar player, one of the best he had heard – and that's all he would say. I tried to draw him out on the blues we had heard, the odd, hushed style in which they'd been sung: I asked him what he thought of the blues and how come he didn't play them more himself. He just smiled, and shrugged, and changed the subject."
download (mp3 @320 kbs):
yandex mediafire ulozto solidfiles global.files
Last Updated (Sunday, 11 April 2021 13:36)