John Lee Hooker: Kabuki Wuki - Born In Mississippi, Raised Up In Tennessee (1973)
John Lee Hooker: Kabuki Wuki - Born In Mississippi, Raised Up In Tennessee (1973)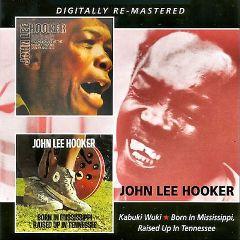 DISC 1 - Kabuki Wuki 
01. Your Love (Just A Little Bit)
02. Hold It
03. Look At The Rain
04. My Best Friend
05. Hit The Floor
06. A Little Bit Higher
07. I Wonder Why
08. If You Got A Dollar

John Lee Hooker - Guitar, Vocals
Ron Beck - Drums
Mel Brown - Guitar, Guitar (Bass), Keyboards
Clifford Coulter - Guitar, Guitar (Bass), Keyboards
Robert Hooker - Organ
L.C. "Good Rockin'" Robinson - Guitar (Steel)
Benny Rowe - Guitar
Gino Skaggs - Bass, Keyboards
Ken Swank - Drums
Luther Tucker -Guitar
Paul Wood - Guitar

DISC 2 - Born In Mississippi, Raised Up In Tennessee
01. Born In Mississippi, Raised Up In Tennessee
02. How Many More Years You Gonna Dog Me Round
03. Going Down
04. Younger Stud
05. King Of The World
06. Tell Me You Love Me

John Lee Hooker - Guitar, Vocals
Ron Beck - Drums
Elvin Bishop - Slide Guitar
George Bohannon - Trombone
Oscar Brashear 	- Flugelhorn
Clifford Coulter - Mellophonium
Chuck Crimelli - Drums
Oma Drake - Vocals
Don "Sugarcane" Harris - Violin
Robert Hooker - Organ
John Klemmer - Sax (Tenor)
Marti McCall - Vocals
Don Menza - Sax (Baritone)
Steven Miller - Piano
Van Morrison - Guitar, Vocals
Mark Naftalin - Piano
Gino Skaggs - Guitar
Ken Swank - Drums
Luther Tucker - Guitar
Michael White - Violin
Blinky Williams - Vocals

BGO Records has released two early '70s albums by the legendary John Lee Hooker. While admittedly not his best albums, they both still show this man did more than play the blues, he lived them. On these offerings, Hooker pumped out a slow moving steam engine of blues music that never picks up too much speed, yet keeps things chooglin' along just fine.
Kabuki Wuki is the better of the two albums included on this two-disc package. This is a classic live set that saw a Hooker show captured at the Kabuki Theater in San Francisco. The music is moody and morose.
John sells it in his vocal delivery and the band moves along like a slow cooked slab of ribs. It may not thrill you, but when it's all said and done, the meat just falls off the bone.
Born in Mississippi, Raised Up in Tennessee continues the same type of feeling but takes it from the stage to the studio. The beat moves about, slowly and carefully; Hooker's vocals keep you on the edge of your seat, yet the pace does get to you after a while as you simply beg John Lee and band to get you on your feet. It just never happens, despite an appearance on the album by none other than the great Van Morrison.
Both of these albums would probably rank higher in, say, Colorado, where one could enhance the music with some legal herb as this is stoner rock, done up blues style.
At the end of the day remember this: a "C" rating for John Lee Hooker means that it may be better than the average album, yet when placed against his best, these two just fall somewhere in the middle. Still worthy of a listen, just not the chosen album by most of his fans. --- Jeb Wright, classicrockrevisited.com
This live set at the Kabuki Theater in San Francisco never catches fire. The great bluesman has his usual band, but he seems to be trying too hard to appeal to a young, mostly white audience that ends up too high in the mix. There are better live recordings by far in this legendary artist's lengthy career. --- Mark Allan, Rovi
download (mp3 @320 kbs):
uploaded yandex 4shared mega mediafire zalivalka cloudmailru oboom uplea