Climax Chicago Blues Band (1969)
Climax Chicago Blues Band (1969)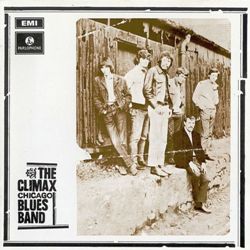 01. Mean Old World (Big Bill Broonzy) - 3:48
02. Insurance (Charlie Singleton, Waldense Hall) - 3:46
03. Going Down This Road - 3:00
04. You've Been Drinking - 2:26					play
05. Don't Start Me Talkin' (Sonny Boy Williamson) - 3:15
06. Wee Baby Blues (traditional, arr.by Climax) - 3:17		play
07. Twenty Past One - 3:05
08. A Stranger In Your Town (Lee Hazlewood, Colin Cooper) - 4:14
09. How Many More Years (Chester Burnett) - 2:55
10. Looking For My Baby - 2:48
11. And Lonely - 8:38
12. The Entertainer (Scott Joplin) - 2:38

Personnel:
- Colin Cooper - vocals, harmonica
- Peter Haycock - lead guitar, slide guitar, vocals
- Arthur Wood - piano, organ, celeste, harmonium
- Derek Holt - rhythm guitar, organ, bass
- Richard Jones - bass
- George Newsome - drums
+
- Chris Thomas – producer

The Climax Chicago Blues Band--not from Chicago at all, but from Stafford, England--were major participants in the 1960s British blues-rock scene. This classic 1969 debut record, recorded before the condensed their name to Climax Blues Band, ... Full Descriptionhints at the power demonstrated on successive albums.
This is the 1969 debut by this prolific British band. Influenced by the Chicago style of blues, these blues-loving musicians bring us a sound that is both direct and immediate and features very talented and creative harmonica and guitar playing.
In the grand tradition of Peter Green's Fleetwood Mac, the Aynsley Dunbar Retaliation, John Mayall's Bluesbreakers, The Keef Hartley Band, T.S. McPhee's Groundhogs, early Rod Stewart, early Led Zeppelin and a dozen others, the British blues scene of 1967-1969 was hot.
And the best of the best was the Climax Chicago Blues Band (they dropped 'Chicago' after this first album). Though rooted in the American blues tradition, they gave it their own distinctive British twist, producing some of the finest modern blues music around in their first 4 or 5 albums.
download:  uploaded ziddu 4shared gett mixturecloud mediafire
Last Updated (Friday, 01 March 2013 23:04)