Calvin Boze - Havin' A Ball (1970)
Calvin Boze - Havin' A Ball (1970)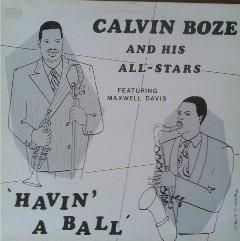 A1		Safronia B	2:17
A2		Angel City Blues	2:14
A3		Working With My Baby	2:13
A4		Satisfied	2:24
A5		Waiting And Drinking	2:25
A6		Your Tops With Me	2:23
A7		Slippin' & Slidin'	3:17
A8		I Can't Stop Crying	2:28
A9		I've Got News For You	2:12

B1		Keep Your Nose Out Of My Business	3:02
B2		Lizzy Lou (Part 1)	1:53
B3		Lizzy Lou (Part 2)	1:58
B4		Shamrock	1:52
B5		Havin' A Ball	2:14
B6		Looped	2:13
B7		I'm Gonna Steam Off The Stamp	2:23
B8		Fishtail	2:10
B9		Beale Street On A Saturday Night	2:46


Trumpeter and vocalist Calvin Boze cut over 30 sides for Aladdin between 1949 and 1952. His singing voice bore a remarkable similarity to that of Louis Jordan and much of the material he recorded was also very similar to that recorded by Jordan in the mid to late 1940s. So the sides presented in this late 1980s album on the Moonshine label are lively and raucous jump blues steeped in a party atmosphere usually very similar to Jordan's major hit "Saturday Night Fish Fry". There's plenty of booting tenor sax solos courtesy of Maxwell Davis.
The album was mastered from vintage 78 rpm discs so there is plenty of surface noise on some sides. Joan K has come through yet again with some label scans, of both 78 rpm and 45 rpm versions of Calvin's biggest hit "Safronia B". There is also a scan of a rare deejay white label promo. Thanks Joan! ---bebopwinorip.blogspot.com
Remembered as being a senior - and the school bandleader - by Charles Brown at Prairie View College in Texas, trumpeter Boze (or Boaz, as his name appears earlier) first came to the public's attention on recordings with the west coast bands of Russell Jacquet (Globe) and Marvin Johnson (G&G).
In 1949, he began recording as a vocalist in a strong Louis Jordan vein for Aladdin Records with Maxwell Davis and his band.
Although he never made a huge impression on the R&B charts, his recordings were all solid, earthy R&B jive. He is best known for "Safronia B" and the b-side - Boze's celebration of his adopted home - "Angel City Blues", as well as a couple of songs he wrote for old homeboy Charles Brown - "Texas Blues" and "Hot Lips And Seven Kisses" - also recorded for Aladdin. ---reverendfrost.blogspot.com
download (mp3 @320 kbs):
yandex mediafire ulozto solidfiles global.files