Paul Williams - In Memory Of Robert Johnson (1971)
Paul Williams - In Memory Of Robert Johnson (1971)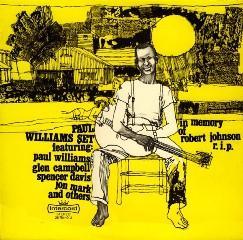 A1 	Terraplain Blues Version I 	3:54
A2 	Crossroads 	5:42
A3 	Kind Hearted Women Blues 	3:56
A4 	If I Had Possession Over Judgement Dat. 	3:40
B1 	Rambling Blues 	4:28
B2 	When You Got A Good Friend 	2:40
B3 	Come On In My Kitchen 	3:58
B4 	Terraplain Blues Version II 	4:32

Acoustic Guitar – Jon Mark, Spencer Davis
Bass Guitar – Keith Ellis, Pat Donaldson (tracks: A1, B1)
Guitar – Alun Davies
Lead Guitar – Eddie Yarlett
Piano – Bob Hall
Steel Guitar – Glenn Campbell
Vocals, Guitar, Harmonica, Arranged By – Paul Williams

Recorded over 20 years ago, In Memory of Robert Johnson, remains a timeless tribute to its namesake. Although the production quality of the original 1973 release was remarkable even by today's standards, the music has taken on an additional level of eloquence and brilliance in this artfully re-mastered version.
The life of Robert Johnson is shrouded in mystery. Some say the legendary blues artist went to the crossroads and made a deal with the devil to be able to play with such emotional power. In any case, his music never relieved his personal sufferings. Most of his recordings were made in the back rooms of Texas hotels and office buildings. Only Terraplane Blues came close to being a hit, even in the restricted race market of the time. Johnson's difficult life finally ended in 1938 under violent circumstances, yet his music became immortal. During the blues revival of the 60s and early 70s, his songs were resurrected by Captain Beefheart, Cream, The Rolling Stones, and others.
English singer, blues guitarist and harmonica player, Paul Williams, was impressed when he heard some of Johnson's original recordings, which were made available to the public in the late 60s. Williams was so moved, in fact, that he gathered together some of England's most prominent blues musicians and went into London's Trident Studios. The resulting sessions faithfully captured the essence of Johnson's style while providing a showcase from some of the finest musicians of the English blues revival.
"What we found in Robert Johnson's music was the authenticity of a man's life," stresses the album's producer and acoustic guitarist Jon Mark, who was highly regarded for his work with blues legend John Mayall. "You have to understand that before the blues revival, we'd had Frank Sinatra singing slick, middle of the road material. Then all of a sudden young people became aware of the blues. We were really impressed with the ability of these black blues musicians to convey a pure sense of the truth. The blues was the most direct way of communicating the pain and the suffering of life, and Robert Johnson really lived it. So you can see why on this session there was a real concern of being purists, of not adulterating the music for our own purposes, but trying to recreate it or interpret it with great respect for the original source." ---amazon.co.uk
download (mp3 @320 kbs):
yandex mediafire ulozto gett bayfiles