Bobby Bradford - No Saints Walkin (2001)
Bobby Bradford - No Saints Walkin (2001)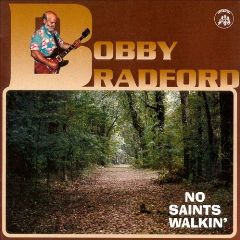 1 	Hard Times 	5:29
2 	Rush Hour Blues 	3:47
3 	Steady Rolling Man 	3:29
4 	Reconsider Baby 	3:55
5 	Waiting For Your Call 	4:20
6 	I'm Watching Out 	3:51
7 	No Saints Walkin 	3:08
8 	She's My Baby 	2:27
9 	Love Has Forgotten Me 	3:30
10 	Mean Old World 	4:26
11 	You Are The One 	3:06
12 	This Is My Life 	3:35
13 	I Want Your Love Again 	4:59
14 	Samba Mamba 	4:56

Baritone Saxophone – Sam Levine (tracks: 3, 8, 11, 12)
Bass – Glen Worf (tracks: 1, 2, 3, 4, 9, 11, 13), Jeff "Stick" Davis (tracks: 5, 7, 10, 12, 14), Tod Ellsworth (tracks: 6, 8)
Chorus – Bobby Bradford (tracks: 1), Hugh Johnson (tracks: 1), Paco Shipp (tracks: 1), Peter Kimball (tracks: 1)
Drums – Butch McDade (tracks: 3, 4, 9, 11), John Gardner (tracks: 1, 2, 13),
 Michael Organ (tracks: 5, 7, 10, 12, 14), Pat O'Connor (tracks: 6, 8)
Flute – Rock Williams (tracks: 14)
Guitar – Kenny Greenberg (tracks: 1, 13)
Harmonica – Mike Henderson (tracks: 10), Paco Shipp (tracks: 1, 6. 8, 13)
Lead Guitar – David "Guitar" Jones (tracks: 6, 8), Jack Pearson (tracks: 3, 4, 5, 7, 9, 10, 11, 12, 14)
Lead Vocals – Mike Henderson (tracks: 2)
Organ – Greg Wetzel (tracks: 11, 12), Reese Wynans (tracks: 1, 9, 13)
Piano – Gregg Wetzel (tracks: 5, 6, 8, 10, 12, 14), Reese Wynans (tracks: 2, 3, 4, 9, 11)
Rhythm Guitar – Bobby Bradford (tracks: 2, 3, 4, 5, 6, 7, 8, 9, 10, 11, 12, 13, 14)
Saxophone – Rock Williams (tracks: 4, 5, 6, 7, 13)
Tenor Saxophone – Doug Moffet (tracks: 3, 8, 11, 12)
Trombone – Barry Green (tracks: 3, 8, 11, 12)
Trumpet [1st Trumpet] – Vinnie Ceisielsky (tracks: 3, 8, 11, 12)
Trumpet [2nd Trumpet] – Steve Patrick (2) (tracks: 3, 8, 11, 12)
Vocals – Bobby Bradford

Bobby Bradford's earliest memory of being moved by music was listening to his father play and sing at their home in Tennessee. Then, he heard Elmore James and Jimmy Reed and that was it.
Bobby has spent his life playing music and is credited with being the father of contemporary Blues in Nashville, Tennessee. During the 70's and early 80's his bands, The Bradford Blues Band and Whitewolf, were the benchmark for Blues in Nashville and throughout the South. After serving his country in the U.S. Navy during the 80's, Bobby came back to Tennessee ready to sing about what he knows and feels. He began to develop a plan and assemble a group of players that fit his vision.
Bobby has played with some of the finest musicians around. Some have gone on to win Grammys and produce Oscar-nominated songs. He loved them all, but Bradford Electric is, in his words, "The Band I Always Wanted." All the musicians in Bradford Electric are superb in their own right, but together they present true ensemble playing that celebrates the subtle nuances of Blues. "This is Blues the way I hear it, a platform that allows me to interpret songs from my life, my way".
There is Chicago Blues, Delta Blues, Texas Blues, West Coast Blues, and then, there is Tennessee Blues, music that contains the tastes and sounds of Tennessee respectfully layered with Blues, Rock, Country and Jazz. Bradford Electric is like no other blues band around. ---smokestacklightnin.com
download (mp3 @320 kbs):
yandex mediafire ulozto gett bayfiles
Last Updated (Tuesday, 03 September 2019 14:22)