Joe 'Guitar' Hughes - If You Want To See The Blues (1989)
Joe 'Guitar' Hughes - If You Want To See The Blues (1989)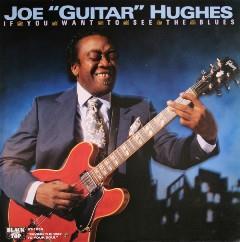 1. Voo Doo Woman - 3:59
 2. Running From Your Own Shadow - 3:17
 3. Mother-In-Law Blues - 3:39
 4. Stuff Like That - 3:59
 5. I Need Love So Bad - 4:50
 6. Learn From Each Mistake - 3:37
 7. If You Want to See the Blues - 4:33
 8. Movin' On - 3:59
 9. Part of Loving You - 4:30

Alto Saxophone – Kathy Lawler
Bass – Jerry Jenkins, Mike Judge
Drums – Marc Wilson, Ray Parcee
Harmonica – Sam Myers
Keyboards – Allen Mosely
Piano – Matt McCabe
Rhythm Guitar – "The Shadow", Paul Chevalier
Tenor Saxophone – Dale Hertrick
Trombone – Bruce Melville, Jimmy Walker, Jr.
Trumpet – James Williams, Keith Anderson, Nelson Mills III
Vocals, Guitar – Joe "Guitar" Hughes

This contemporary of Albert Collins and Johnny Copeland only recently began accruing his own share of immortality -- and it really started with this fine album, recorded in both New Orleans and Houston. Hughes's clean, crisp guitar work and hearty vocals may not be quite as distinctive as those of his Houston pals, but he's an authentic Texas blues guitarist all the way. ---Bill Dahl, AllMusic Review
On my first visit to Houston, Texas, I was faced with the perfect dilemma; Which blues act should I go see that would epitomize Texas blues, Houston style?? Believe me, it was not an easy decision! After some serious deliberations, the choice was made; a visit to The Big Easy Social & Pleasure Club to see Joe "Guitar" Hughes, Texas guitar slinger and Houston blues legend.
On any given weekend, Houstonians can listen to some exceptional Texas blues bands, many which are based in the Houston area. Among these performers are Pete Mayes, Grady Gaines and the Texas Upsetters, Mark May and the Agitators, Lil' Brian and the Zydeco Travelers and, my choice, Joe "Guitar" Hughes. Interestingly, while Austin, Texas lays claim to being the "Blues Capital of Texas," Joe Griffin, Hughes' drummer, was quick to point out that on most weekends, Houston has the better selection of blues options.
Joe "Guitar" Hughes is a lifelong resident of Houston, Texas. At age 62, Hughes has performed with a veritable "Who's Who?" of blues, soul and R+B, including Ted Taylor, Lowell Fulson, Johnny Copeland, Jimmy McCracklin, Nappy Brown and Bobby "Blue" Bland, among others. After virtually disappearing from the music scene in the early 1980's, Hughes was rediscovered around 1985. In the past ten years, he recorded his first two albums for American record companies; "If You Want To See The Blues" (Black Top - BT1050) in 1989 and "Texas Guitar Slinger" (Bullseye - BB9568) in 1994.
Supported by a group of fine local musicians featuring J. Fred Arceneaux (bass), Joe Griffin (drums) and Earl Gilliam (keyboards); Hughes offered the audience at The Big Easy several fine sets of blues with his excellent vocals and stinging guitar. With a strong backbeat laid down by Arceneaux and Griffin, Hughes traded solos with keyboardist, Earl Gilliam, all evening.
Decked out in a sharp red suit, Hughes played many of his original compositions from his Bullseye and Black Top CDs. Particularly enjoyable were the title tracks from both CDs, "Texas Guitar Slinger" and"If You Want To See The Blues"; as well as "A Blues Song" and "My Baby Told Me" from "Texas Guitar Slinger".
During the evening, Hughes also offered several covers and instrumental numbers. One of my favorites during the evening was a fantastic instrumental version of "When A Man Loves A Woman" which involved extended solos by Hughes and Earl Gilliam. Another interesting cover tune performed during the evening was a funked up version of Jimmy Reed's, "Big Boss Man," offering a beat reminiscent of Michael Jackson's classic, "Billie Jean".
Overall, my first visit to Houston was a good one, with the great music offered by Joe "Guitar" Hughes at The Big Easy. With several good blues clubs in the area, blues fans traveling to the Houston area would be well-advised to check out one (or more) of the blues clubs in the area. ---Dave "Doc" Piltz, mnblues.com
download (mp3 @320 kbs):
yandex mediafire ulozto gett bayfiles