Linkin' Louisiana Peps - Blues Connection (1968)
Linkin' Louisiana Peps - Blues Connection (1968)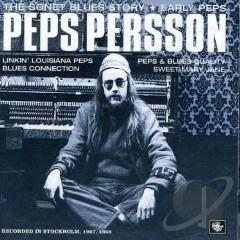 1 	Blues With A Feeling 	6:22
2 	Dimples 	5:06
3 	Five Long Years 	5:16
4 	Rooster Blues 	3:13
5 	Shake Your Money Maker 	3:40
6 	The Sky Is Crying 	5:50
7 	Dust My Blues 	2:48
8 	Sportin' Life Blues 	4:59

Bass – Göran Malmberg
Congas – Bill Öhrström
Drums – Pelle Ekman 
Guitar – Guy Öhrström
Piano – Slim Notini
Tenor Saxophone – Göran Ramberg 
Vocals, Harmonica – Peps Persson 

HERE IS THE FIRST LP BAND "PEPS BLUES QUALITY" THE POST BELOW. IS A SUPER RARITY AND A BLOG OF EXCLUSIVE "BLOG VENENOS DO ROCK"! "BLUES CONNECTION" IS DEBUT ALBUM THAT INTRODUCED IN SWEDEN THE BLUES, COUNTRY WHERE NOT KNOW MUCH STILL THE BLUES BECAUSE JOHN MAYALL, CANNED HEAT, FLEETWOOD MAC BLUES AND OTHER BANDS HAVE NOT HAD ENTERED BY THERE UNLESS, lOGICAL, AMONG SOME COLLECTORS! GOOD, SUPER RARE AND RECOMMENDED!!
Peps Persson was probably the most important artist in introducing blues to Sweden in the late '60s and early '70s. Since then he has had a reputation of being mainly a blues artist, but his discography shows a much wider range, including Afro-pop, reggae, R&B, and folk. Peps Persson is most easily recognized by his full and trembling voice, and his extreme deep south (Swedish) dialect that gives him a wide selection of words and rhymes. In a peculiar way it also helps him to adapt Swedish to blues music, a thing not many have mastered. In 1966, Peps Persson formed the group Downbeat Crowd and released a cover of Muddy Waters' "Got My Mojo Working" as a single.
The first LP, Blues Connection, was released 1968 on Gazell and the name of the band was now Linkin' Louisiana Peps. ---Luiz Carlos Menegon, venenosdorock.blogspot.com
Although his albums aren't uniformly excellent, it's absolutely impossible to overrate Peps Persson. Not only is he a top-notch performer, an excellent lyricist (and translator) and in possession of one of the greatest backing bands ever to come out of Sweden, he's also a highly influential character who more or less single-handedly introduced blues and reggae to Swedish audiences. His first band was rock & roll and instro band Pop Penders Kvartett. In 1966-67 he made a name for himself locally with blues and rhythm & blues band Down Beat Crowd. Around that time, Peps left Hässleholm in Skåne in the south of Sweden and moved to Stockholm where he hung out in the legendary psychedelic underground Club Filips. He released a couple of unimpressive singles for the Olga label before his career took on. His discography is vast and varied, also including production work and collaborations with other artists.
After the Olga Records 45's released as Linkin' Louisiana Peps (named so after a misunderstanding; it should have been Limpin', not Linkin'), he made his album debut with this pedestrian set of Chicago blues. Peps was simply too derivative in his early days, the song choices – all covers – are unimaginative in retrospect. ---swedishprogg.blogspot.com
download (mp3 @320 kbs):
yandex mediafire ulozto gett bayfiles