Johnny B. Moore With The Westside All Stars ‎– Lonesome Blues (1993)
Johnny B. Moore With The Westside All Stars ‎– Lonesome Blues (1993)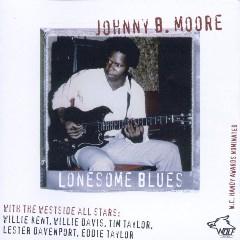 1 	Knocking At Your Door 	
2 	Lonesome Blues 	
3 	No Good Woman Blues 	
4 	Blues Medley 	
5 	I'm Gonna Miss You 	
6 	Mean Mistreater 	
7 	Evening Sun 	
8 	Sacrifice 	
9 	Pretty Mama 	
10 	Up Side The Wall

Bass – Willie Kent
Drums – Tim Taylor
Guitar – Eddie Taylor, Willie Davis
Harmonica – Lester Davenport
Vocals, Guitar – Johnny B. Moore

Following his two CDs for Delmark Records, "Live At Blue Chicago" (1996) and "Troubled World" (1997), "Lonesome Blues" is Johnny B. Moore's first recording on Wolf Records. Moore, whose style has been influenced by no less than Muddy Waters and Magic Sam, uses the new label to feature his songwriting skills along with his distinctive guitar and vocals. Along with the nicely done covers of songs by Elmore James ("Knocking At Your Door"); Roosevelt Sykes ("No Good Woman Blues"); James H. Moore ("I'm Gonna Miss You"); and Jimmy Reed ("Up Side The Wall"), "Lonesome Blues" features six originals by the Chicago blues guitarist.
Moore is capably backed on "Lonesome Blues" by Willie Davis (guitar), Willie Kent (bass), "Mad Dog" Lester Davenport (harp) and Tim Taylor (drums). With this seasoned backup band of talented musicians, Moore puts together a fine collection of traditional Chicago blues that epitomizes the sound of that great blues city.
The CD opens with Elmore James', "Knocking At Your Door," an excellent cover that features some well done guitar by Moore. On the title tune, "Lonesome Blues," Moore's sound is enhanced by the fine harp work of Lester Davenport. "Lonesome Blues" is followed by Roosevelt Sykes "No Good Woman Blues," with Moore trading riffs with second guitarist Willie Davis. Another Moore original,"Mean Mistreater," includes some exceptional guitar by Moore. "Evening Sun" is a well done acoustic venture by Moore, accompanied only by Lester Davenport on harp and Tim Taylor on drums. In yet another combination of personnel,"Sacrifice" features a guest appearance by late guitarist, Eddie Taylor, Sr., drummer Tim Taylor's father and guitarist for Jimmy Reed. "Sacrifice" was recorded in 1984 and is the oldest recording on the CD. The other nine songs were recorded in two separate sessions during 1987.
One of the most entertaining songs on the CD is "Blues Medley." On "Blues Medley," Moore combines the songs and styles of seven different blues greats. Moore's vocal mimicry of Howlin' Wolf, Jimmy Reed and Muddy Waters will definitely stir your listening memories of the three Chicago blues legends.
The CD concludes with another acoustic tune, Jimmy Reed's "Up Side The Wall" with Moore's guitar and vocals accompanied only by Tim Taylor's capable drumming. The acoustic tunes on "Lonesome Blues" does an effective job of breaking up the electric blues and adds some nice variety to the recording. ---Dave "Doc" Piltz, mnblues.com
download (mp3 @320 kbs):
yandex mediafire uloz.to gett my-files.ru